politics
Columbia Journalism School to Conduct Review of Rolling Stone UVA Rape Story
The venerable school has been asked to conduct an independent review of the magazine's reporting and editorial process.
By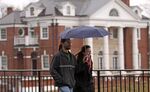 Rolling Stone is heading back to journalism school. In the wake of the magazine's reporting on a gang rape at a University of Virginia fraternity house, editor and publisher Jann Wenner has asked the Columbia School of Journalism to conduct an independent review of the magazine's handing of the story. 
In a statement released Monday, Wenner said:
In RS 1223, Sabrina Rubin Erdely wrote about a brutal gang rape of a young woman named Jackie at a party in a University of Virginia frat house ["A Rape on Campus"]. Upon its publication, the article generated worldwide attention and praise for shining a light on the way the University of Virginia and many other colleges and universities across the nation have tried to sweep the issue of sexual assault under the rug.

Then, two weeks later, the Washington Post and other news outlets began to question Jackie's account of the evening and the accuracy of Erdely's reporting. Immediately, we posted a note on our website, disclosing the concerns. We have asked the Columbia Journalism School to conduct an independent review—headed by Dean Steve Coll and Dean of Academic Affairs Sheila Coronel—of the editorial process that led to the publication of this story. As soon as they are finished, we will publish their report.
Though not singled out by Wenner, the review almost certainly will examine the decisions made by the magazine's editors. In their lengthy correction to the original story, for instance, the magazine's managing editor, Will Dana, stated:
Because of the sensitive nature of Jackie's story, we decided to honor her request not to contact the man who she claimed orchestrated the attack on her nor any of the men who she claimed participated in the attack for fear of retaliation against her. 
Dana went on to say that not contacting the accused was a mistake. 
Last week, the Federalist obtained emails through a Freedom of Information Act request that were sent between Rolling Stone and the University of Virginia in which school officials claimed there was a "mischaracterization of facts" in the victim's account of the rape. 
Before it's here, it's on the Bloomberg Terminal.
LEARN MORE