Arizona Sheriff Gets Skeptical D.C. Welcome in Immigration Fight
Andrew Zajac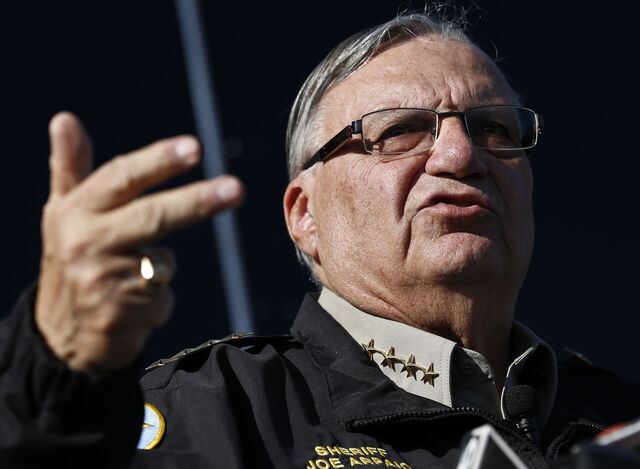 Arizona sheriff Joseph Arpaio's claims that President Barack Obama's immigration policy changes are illegal were greeted skeptically by a U.S. judge who questioned whether the lawman is eligible to challenge the alterations, most of which won't take effect till next year.
Arpaio, sheriff in Maricopa County which includes Phoenix, sued last month in a challenge to Obama's decision to give reprieves from deportation to as many as 5 million undocumented immigrants based on their family ties to the U.S.
U.S. District Judge Beryl Howell in Washington said today that deferred-removal programs such as those Obama announced last month have been around since the 1970s and that much of Arpaio's suit was a sweeping attack on administration policy, not a complaint focused on specific legal grievances.
"That doesn't cut it for me," Howell said. "What is it precisely you're asking me to enjoin or stop?" she asked Larry Klayman, an attorney for Arpaio, who calls himself "America's Toughest Sheriff."
Obama isn't carrying out policy, "he's creating law," Klayman said.
He asked her both to rule on the constitutionality of the policies and on their fidelity to the Administrative Procedures Act, a law that requires government programs to be fleshed out through rule-making.
Policy Harm
Much of the harm claimed by Arpaio would result from the behavior of the immigrants reacting to government policy, not directly from the policy itself, undercutting the sheriff's standing to sue the U.S., Howell said.
Based on legal decisions in federal court in Washington regarding harm from third parties, "you've got a big problem with standing," she told Klayman.
Klayman told Howell that Arpaio would be harmed by the new policies because more illegal immigrants his department arrested for criminal conduct would be protected from deportation and would remain in Maricopa County to commit more crimes.
Kathleen Hartnett, a lawyer for the government, disagreed, telling Howell the new policies allow for deportation if someone is convicted of a "significant crime."
"The status is revocable at any time," Hartnett said. Further, she said, "this does not provide legal status or a pathway to citizenship."
Under questioning by Howell, Hartnett said the main components of Obama's immigration changes wouldn't take effect until February at the earliest.
Howell, who was named to the bench by Obama, said she will rule "very shortly" on the sheriff's request to suspend the policy changes and on the government's request to throw out the case.
Texas Challenge
The president's action also has been challenged by Texas Republican Attorney General Greg Abbott, who won the Nov. 4 governor's race.
Abbott filed a suit, since joined by about two dozen states, in federal court in Brownsville, Texas, on Dec. 3 to thwart Obama's plan.
A hearing is set for Jan. 9.
Arpaio, first elected sheriff in 1993, sued Nov. 20, the same day Obama announced his new immigration policies. Obama's unilateral action triggered a showdown with Republicans who take control of the Senate in January.
Lightning Rod
The 82-year-old sheriff has been a lightning rod for immigration reform advocates because of his aggressive tactics toward people suspected of being undocumented immigrants. His office has been overseen by a monitor since October 2013, after Arpaio was found by a federal judge in Arizona to have violated the civil rights of Latinos.
In April, U.S. District Judge G. Murray Snow ordered the sheriff to provide his deputies with a summary of the court order forbidding the department from using race or Latino ancestry as a reason to stop a vehicle or detaining Latino drivers and passengers only on the suspicion they are undocumented immigrants. The U.S. Justice Department accused Arpaio and the county in a separate lawsuit of systematically discriminating against Latinos.
Arpaio has attracted attention for other actions, including requiring prisoners to wear pink underwear and investigating the authenticity of Obama's birth certificate.
In the immigration case in Washington, Arpaio teamed up with Klayman, the founder of the advocacy groups Judicial Watch and Freedom Watch. Last December, Klayman, a frequent litigator on issues over the authority of the executive branch and other topics, won a court ruling that the National Security Agency's telephone data surveillance program is probably illegal. A decision on the government's appeal is pending.
High Profile
In today's hearing, both Klayman and Howell seemed conscious of the lawyer's stature as a well-chronicled litigator in high-profile suits.
Klayman referred several times to his involvement in the NSA case and other suits and he told Howell that a quick ruling on the constitutionality of Arpaio's complaint would speed its path to the Supreme Court and "make you more famous."
"In this room, I think you are the most famous person, Mr. Klayman," Howell told him.
A ruling in the Arpaio case may be the first on a direct challenge to Obama's order.
On Dec. 16, a federal judge in Pittsburgh wrote that Obama's order was unconstitutional. His comments came in a case involving an illegal immigrant who had pleaded guilty to a charge of re-entering the country after being deported and don't affect the president's order.
The Justice Department said in an e-mailed statement on the day of the Pittsburgh ruling that the judge's "analysis of the legality of the executive actions is flatly wrong."
Howell told Klayman she wouldn't take much guidance from the judge's reasoning in the Pennsylvania case.
"I don't find it at all persuasive," she said.
The case is Arpaio v. Obama, 14-cv-01966, U.S. District Court, District of Columbia (Washington). The states' case is Texas v. U.S., 1:14-00254, U.S. District Court, Southern District of Texas (Brownsville).
Before it's here, it's on the Bloomberg Terminal.
LEARN MORE