NQ Mobile Tumbles as Unit Sale, Earnings Fail to Impress
Elena Popina and Ye Xie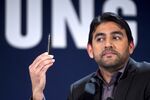 NQ Mobile Inc., the Chinese mobile-security company accused by a short seller of overstating revenue, plunged last week after announcing the sale of its game unit and providing financial results for the first three quarters of this year.
Shares of the Beijing-based company sank 24 percent last week to a three-year low of $4.09 in New York, extending to 82 percent its tumble since Muddy Waters LLC, the research firm founded by Carson Block, said in October 2013 that the company misrepresented cash balances and was a "massive fraud." NQ Mobile's retreat was the biggest last week on the Bloomberg China-US Equity Index, which gained 3.2 percent.
NQ Mobile, which concluded an internal probe that didn't find any evidence of wrongdoing in June, said on Dec. 18 that it was selling its FL Mobile game unit for as much as $630 million and released unaudited financial results for the first three quarters of this year.
"NQ Mobile after the conference call is even more opaque than NQ Mobile before it," Henry Guo, a senior analyst at JG Capital Corp. in San Francisco, said by phone on Dec. 19. "The decision to sell the company's gaming business, the only sector which investors understood, the sector which actually brought money, the only high-visibility story at NQ Mobile, means that there is nothing left in the tank. There is absolutely nothing the company can offer."
CEO Exit
The company said in June that an internal investigation found no evidence that it engaged in the fraudulent conduct alleged by Muddy Waters. NQ Mobile filed its 2013 annual report in October after delaying it twice. It said on Dec. 10 that shareholder RPL Ltd., controlled by NQ Mobile's founders, agreed not to sell shares until the end of 2016.
NQ Mobile has tumbled 32 percent since the company said Dec. 10 that Chairman and Co-Chief Executive Officer Henry Lin was stepping down. Omar Khan, NQ Mobile's co-CEO, said in a conference call that Lin left for personal reasons unrelated to the company. Lin's exit follows the departure of the chief financial officer in August, the resignation of the audit panel chairwoman in July and the dismissal of its auditor that same month.
"As far as I'm concerned, the main topic of interest for shareholders is" Lin's departure, Vijay Marolia, chief investment officer at Regal Point Capital Management, which has a short position on NQ Mobile, said in e-mailed comments Dec. 19. The sale of FL Mobile to Tack Fiori International Group Ltd., a clothing company, "makes zero sense," he wrote. "How realistic is it for a company with a market cap of $253 million to be able to sell a subsidiary for $600 million?"
Media Speculation
A public exchange, meanwhile, between Block and NQ Mobile executives showed that the relationship between the two sides is as tense as ever. Block initially hid his identity on an NQ Mobile conference Dec. 18, presenting himself as Jim Oberweis Jr., an investor who was once the company's second-largest shareholder. Block, mistaken for Oberweis, was then chosen to ask the first question of company executives before his line cut off, according to a transcript of the call.
"Your first question comes from the line of Jim Oberweis Jr.," the operator said, following more than 30 minutes of presentations from company officials, according to the transcript. "Please go ahead."
"Yeah. Hi. Actually, this is Carson Block," the short seller said.
Block went on to ask why NQ Mobile hadn't discussed the status of Lin, whose whereabouts have been the subject of Chinese media speculation since his resignation. Given that there was no resignation letter in the company's filings, "this is pretty concerning," Block said before his phone line dropped.
Oberweis Stake
"Unfortunately, NQ cut off the question," Block said in an e-mailed response about the exchange to Bloomberg News. His spokesman Zach Kouwe said Block misrepresented himself initially because in the past NQ Mobile executives have refused to call on him during the question-and-answer period.
Kim Titus, a spokesman for NQ Mobile, didn't reply to an e-mail and phone calls seeking comment on whether the company had cut off Block and whether it has prevented him from asking questions in the past.
Oberweis, president of Oberweis Asset Management Inc., declined to comment in an e-mail. The firm sold its entire 1.3 million-share stake in the third quarter, according to a filing with regulators in November.
Before it's here, it's on the Bloomberg Terminal.
LEARN MORE