Rally Has Some Wondering Can Anything Get in Way?: Opening Line
C. Thompson and Laurence Arnold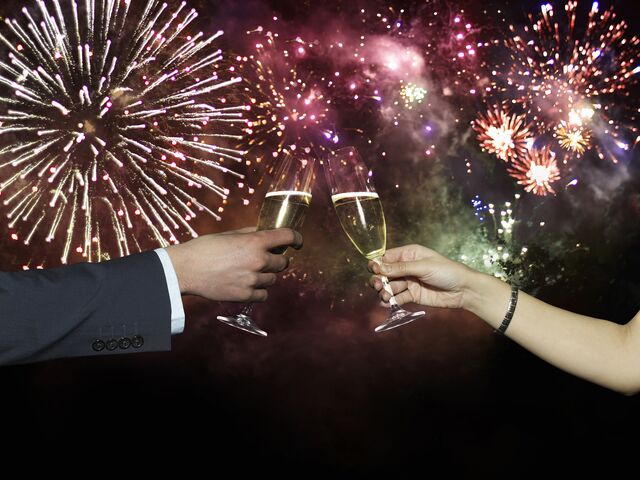 If the situation in Russia can't take it down, and the political atmosphere in Washington can't take it down, and plunging energy prices can't take it down, and with the U.S. economy finally starting to catch up to the values U.S. stock markets have been front-running for a while, then is this a merry Christmas or what?
The two-day rally that added 4.5 percent to the S&P is the kind of thing that's starting to give the six-year bull market some much sharper horns and a battle-tested air about it. It was looking a little ugly there for a bit, especially last week, when the index had two daily declines of more than 1.6 percent, and even as recently as Tuesday, when the index dropped almost 0.9 percent.
Those of you who tried to get in on that probably got bit, and maybe you were making amends Wednesday and yesterday. Coupled with the end of the year window-dressing in portfolios and tax profiles, and the tendency for investors to be in a spending mood this time of year, the Fed's holiday gift Wednesday has released what must have been some tightly coiled springs.
"It's definitely true that for the last six years, December has been an up month," says Chris Nagi, managing editor for stocks coverage. "Even in 2008, bizarrely, it was an up month, and returns have been somewhere around 2 percent. So, if one buys that that defines some kind of propensity, and it's possible December is a strong month for stocks, then what's going on here is that whatever forces have tended to drive stocks up in December are back in play."
Market psychology or something, right?
Nagi added that the turnaround this week came "on the strength of an undeniably well managed Fed message. They threaded the needle in a way the market appreciated."
Ace economic reporter Victoria Stilwell tells us today that as we head into 2015, the foundation is being laid for more optimism, and gains, to come. The employment picture in the U.S. is the best it's been in a long time, inflation and cost-of-living elements are subdued, and the bonhomie is spreading to the core of the U.S. economic engine -- those not in the 1 percent.
"We've seen the pace of spending among middle- and lower-income households start to pick up," Ellen Zentner, a senior economist at Morgan Stanley, told Stilwell. Mark Zandi of Moody's Analytics, just down the road from the Opening Line bureau in West Chester, Pennsylvania, says the U.S. economy is officially "off and running."
"I don't think there's a single headwind for consumers," he says. "It's all tailwinds blowing at different strengths." (Note to self: Check 401(k), haul up the spinnaker.)
So, we've got this sense of durability in the market now, Nagi says, and a look ahead to what could be the biggest threat has already been kind of neutralized.
"What had been a basket-case market for the first couple years of the bull market, when practically anything could knock it down, the opposite's going on now," Nagi says. "Now it's getting to a point that's more typical of later-stage bull markets, when people are convinced nothing's going to stop it.
''The market's to-be-sure is the thing that always ends these bull markets: the Fed. The Fed has to come in and raise rates. But it's funny, because the market is basically celebrating the Fed announcing it's going to raise rates sooner than people thought," Nagi says.
So, happy new year?
***
There are no major U.S. economic indicators today, unless the Kansas City Fed manufacturing activity index does it for you.
BlackBerry, CarMax, Paychex, The Finish Line and Carnival Corp. will report earnings before the market opens today, and there's not much we see in the afternoon.
Four companies are scheduled to price their IPOs.
Overnight, the BOJ said its stimulus program will boost the monetary base at an annual pace of 80 trillion yen ($670 billion).
***
- U.S. EPA ruling on coal ash as hazardous waste due today. - EU leaders continue their meeting in Brussels. - Ally subpoenaed by U.S. Justice Department over subprime auto loans. - It's quadruple-witching day. - Paramount Pictures has Sony Pictures' back, bans screening of "Team America," theaters say. - UN General Assembly, by a vote of 116 to 20, with 53 abstentions, refers North Korea human-rights abuses to the ICC. These 73 are? - Boko Haram made another kidnapping raid Sunday, but it's just emerging now. - Kurds retake ground near Sinjar Mountain with help from air strikes. - U.S. Secret Service needs an outsider to shake things up, panel report finds. - We hear about terrorist leaders being taken out, but does it matter? - Effects of New York's fracking ban seen seeping into Pennsylvania. - SpaceX postpones its ISS supply mission launch until Jan. 6. - Obama grants "Christmas clemency" to 20 convicts buried in the legal system. - HIV suspected in 106 members of a Cambodian village of 800. - Suit over eggless mayonnaise abandoned by Unilever. - Nursing aid who beat Ebola goes after Spain for killing her dog. - Sheriff Joe Arpaio closes immigration SWAT unit. - Obesity ruled a disability by EU court. - Turns out one bad apple can spoil others. - Frat boys who jeered anti-rape rally now have no frat, soul. - TSA reveals violence in video games. - Buzzkills - King George III left a little proof of his madness behind. - Bird brains may be equipped with infrasound technology. - Craig Ferguson hosts his final episode of the Late Late Show. - Celtics send Rajon Rondo to Dallas for three players, two draft picks. - Christmas traffic alert: Almost 100 million Americans will hit the road. - In space, borders disappear. - ''Elizabeth Gallagher 2.0''
***
For a stock market that just can't seem to accept losing, is there a more apt partner than the Harlem Globetrotters?
''Flight Time'' Lang and ''Bull'' Bullard, two members of the seemingly ageless basketball exhibition team, will ring the Nasdaq's closing bell today. (''Bull'' Bullard -- now there's a stock-market name.)
The closing bell, of course, is a purely theatrical event in this era of computerized trading -- so's the Nasdaq trading floor, for that matter -- and the Globetrotters, who are embarking on a new North American tour on Dec. 26, are an inspired choice. Their games are shows and their athletic feats pre-planned, if still impressive.
That said, it's hard to imagine the Globetrotters without their historic foil, the sad-sack Washington Generals, losers of an estimated 14,000 exhibition games over seven decades. The various iterations of Generals have been ''good enough to provide competition and compliant enough to let themselves be victimized by the Globetrotters' signature pranks," as the New York Times wrote in its obituary earlier this year of the Generals' founder, Red Klotz.
Through their thousands of games against the Globetrotters, the Generals were credited officially with just one win, in 1971, and at most had six victories, according to the authoritative Washington Generals Fan Blog.
Six in 14,000 -- that seems roughly the odds of timing the market exactly right.
So for investor-education purposes, maybe two Generals could be brought along today, to ring the bell 5 minutes early?
***
"A bridge in America shouldn't just fall down," Senator Amy Klobuchar of Minnesota observed on Aug. 2, 2007, which at the time felt like one of those turning-point moments in American history.
An eight-lane bridge carrying Interstate 35W across the Mississippi River had collapsed during the previous evening's rush hour, killing 13 people and injuring 145. After decades of hand-wringing over deficient bridges and other aging pieces of America's skeletal structure, it seemed like a reckoning was near.
It never really arrived.
Starting in the early 1990s, the U.S. had made a steady effort to repair its aging bridges. But in the years since the I-35 collapse, that has slowed, rather than accelerated, according to Transportation for America, which advocates greater spending on such projects.
Peter Robison today takes us inside the political, civic and fiscal battles stalling repairs to one of the most dangerous U.S. highway bridges, "a rotting, accident-prone span over the Columbia River between Oregon and Washington."
State lawmakers, Portland bicyclists, mass-transit planners and suburbanites determined to keep city life at arm's length have all played their roles in keeping "'the steel-girded mess on Interstate 5,'' he writes.
But really, so much of this is about money. The federal gas tax hasn't been raised in two decades. A multiyear highway-funding bill has encountered so much resistance in Congress that President Obama said private industry may need to step in.
We recently expressed our doubt that the U.S. could maintain the multi-decade financial commitment that would be necessary to achieve a manned mission to Mars. We'll double down on our pessimism now that we know about the obstacles facing a manned mission to Portland.
***
Which one of these splendors wasn't part of a Bay Area tech-company holiday party this year?
- company-sanctioned beer pong
- the World Series trophy
- an ice throne
- body-painted models
- frugality
''(W)ith the Nasdaq Composite Index up 14 percent for the year and companies like Uber Technologies Inc. raising record amounts of investment capital at valuations in the billions or tens of billions of dollars, the Bay Area's tech elite is feeling celebratory," Adam Satariano and Sarah Frier report.
We'll refer you to their article for the rest of the details, including which company offered sledding in 60-degree weather.
***
OK, we're just winging it here but that's why you love us, right? Who cares if we're right as long as we're close, or at least entertaining.
Bluto: "Was it over when the Germans bombed Pearl Harbor?!"
Otter: "Germans?"
Boon: "Forget it, he's rolling."
Exactly.
Remember when towns across America had local businesses that sold stuff? You went to the furniture store for furniture, to the grocery store for groceries (and even further back in time, to the butcher for meats, the bakery for bread, etc.), to the hardware store for hardware and to the book store for books?
Then economies of scale took over and we got Wal-Marts and Sam's Clubs and the little stores went away, and everyone was happy with the money they saved while simultaneously complaining about the loss of local culture.
Well, when the Irishman Dara Doyle found drinking a Czech beer an English pub in Dublin wakes up to find that the JD Wetherspoons of the bar scene, with their $1 billion-plus market value, have undersold at least a plurality if not even a majority of their local competitors out of business, and Dubliners no longer know a shebeen from Shinola, he might want to take the money he saved and build a time machine.
***
As we head into the teeth of winter here in the U.S., and you're sneaking tokes from that seasonally-affected disorder therapy lamp when no one's looking, just remember it could be worse: You could be living in, like, Yellowknife.
Who knows what the sunlight-hours tally is up there by now. And remember this, as well: After Sunday, we've all turned the corner in the northern hemisphere.
In New York, Brian Sullivan tells us, you'll get 9 hours and change on Sunday, then gain a second on Monday and before we know it we'll all be tripping over crocuses.
As for the cold air, it's starting that thing like when your cat is howling to come back inside so that it can go back outside again.
"The cold will wax and wane through the course of the winter for a variety of reasons," Sully writes. "One is that after truly frigid air drops out of the Arctic into the more temperate latitudes of North America, it takes time to rebuild the supply."
And then it starts again. And the drier it is, the colder it is.
Why are we even bothering with this stuff? It's December. It's dark. End of story.
***
Three movies were scheduled to open in wide release this weekend, but unbeknown to Hollywoodistan, there were sinister forces working their heinous brand of cyberterrorism not only in opposition to spoof assassination stories, but to a far wider spectrum of plots, some seemingly benign, if not out right banal.
In this new Opening Line feature, we'll preview the box office releases by highlighting the latest status of each.
- "The Hobbit: The Battle of the Five Armies": Canceled due to threatened mass fire-breathing. Chief suspect: International Society for the Prevention of Cruelty to Dinosaurs.
- "Annie": Canceled due to threatened mass sing-alongs. Chief suspect: Association of Assistants to the Rich and Powerful (AARP).
- "Night at the Museum: Secret of the Tomb": Canceled due to threatened mass lectures by docents. Chief suspect: Citizens Against Excessive Sequels.
Before it's here, it's on the Bloomberg Terminal.
LEARN MORE