The Eternal Return of Keith Ellison's "Draft Warren" Comments
After three tries, Keith Ellison gets people to notice a quasi-endorsement.
By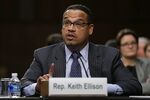 On Dec. 10, Minnesota Representative Keith Ellison tweeted his reaction to the push for an Elizabeth Warren presidential bid.
Four days later, Ellison appeared as a progressive voice on ABC's This Week. Host Martha Raddatz read his tweet on the air and posed the natural next question.
"Would you support her candidacy over Hillary Clinton's?" asked Raddatz.
"Yes, I'm not prepared to say that yet," said Ellison, "but I do think it's important that we have a robust discussion about how--which candidate can carry the mantle of American working people the best? Who can help close this dramatic income inequality that so many Americans are suffering from? Who's going to be able to really get people to the polls and excite people? And so I'm not signing up for any candidate yet. But I do think that Elizabeth Warren represents an exciting possibility."
Four days after that, Ellison joined a call by Democracy for America, another progressive group that is co-sponsoring the Draft Warren campaign and which had just kicked in $250,000 for messaging and organizing. At 10:22 p.m., eastern time, DFA emailed reporters with the "BREAKING" (caps in original) news that Ellison had "publicly expressed support for Senator Elizabeth Warren entering the 2016 presidential race."
"I don't have any grand announcements," said Ellison, "but I do have this to tell you: I would love to see Elizabeth Warren in this race. It would be fantastic.  I think that it would help the quality of the debate and she may win. But even if she doesn't, I think she'd make Hillary Clinton a better candidate."
That did it, finally. MSNBC's Alex Seitz-Wald ran with the news of Ellison's comment, calling it "the closest any major elected official has come to endorsing the Massachusetts Democrat." The Hill's Peter Sullivan did the same, referring to the Progressive Caucus leader and first Muslim congressman as a "top liberal lawmaker."
The major takeaway from Ellison's line, as from so much Warren-o-philia, is that he is not comfortable saying, "Warren should defeat Hillary Clinton for the presidency," and very comfortable saying that the Democrats need a real primary. That's the growing wisdom inside the Democratic Party for anyone not personally invested in Clinton--and for some who are. The takeaway on the media's side of this: Boy, the press really wants to cover a primary.