The Delayed-Reaction Victories of Ted Cruz
The Texas senator knows what he's doing.
By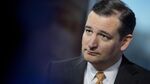 As Republicans left Washington, the 113th Congress getting happily smaller in the rear-view, they were at war over a meme. Namely: Conservatives were pushing back, hard, against the idea that Texas Senator Ted Cruz staged a pointless fight and enabled the confirmation of some of Barack Obama's least confirmable nominees. The weekend before the recess, Cruz made a procedural objection -- a protest of the November "executive amnesty," which the spending agreement would not defund -- and senators who expected to skip down were forced to stay. That let Reid start the clock on a crew of Obama nominees, and set them up for weekday votes.