The Bentley Continental GT3-R Is a Deft Ode to British Racing History: Review
by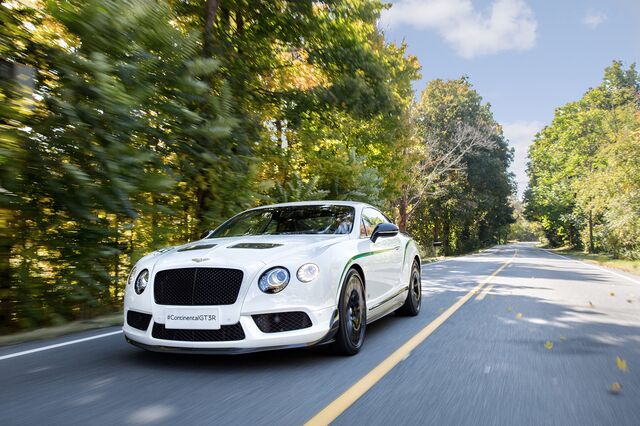 "Is that guy drunk?" my friend Dexter asked from the passenger seat, referring to the man in the car behind us. He'd been eyeing him work a Bentley Continental GT3-R through the hills outside Carmel, Calif. We had been trading driving duties on the new racer that sunny afternoon not long ago.
"That's Brian Gush, the head of the motorsport division at Bentley," I said. "Why do you ask?"
"Wow," Dexter said, laughing. "He seemed super relaxed when we spoke but he got so aggressive behind the wheel, especially on those corners - I thought maybe he was drunk."
Haha.
Drunk with pride, maybe.
Gush was the guy in charge of the Bentley Speed 8 won Le Mans in 2003. He told me he spent a year on the GT3-R, his latest pet project. In fact we spent two solid hours talking about it as I drove us through the Monterey desert scrub.
He has every right to be proud. The car is superb: fast like an adder, powerful like a roundhouse punch, as willing to please as a young champ fighting for his country. Swooping around corners in the GT3-R holds to pavement like a steel ball to a magnetic track. The 300 people who will pay $339,725 to buy one will probably look at the divot in their bank account and call themselves blessed.
Defying Categorization
To understand the importance of the GT3-R, it helps to know about the "the Bentley Boys," a famous-in-England group of well-off British motorists who in the 1920s first brought racing glory to Bentley's name. It's a credit to their prowess and fortitude that their main competitor at the time was Bugatti.
The young daredevils, some of whom were brothers, are important because they bolster Bentley's racing credibility, something that sets it apart from other opulent brands like Rolls-Royce. The marque uses this track mentality as inspiration for many of its higher-tuned coupes, too. The GT3-R is one such coupe, meant to embody the modern realization of that thirst for racing glory.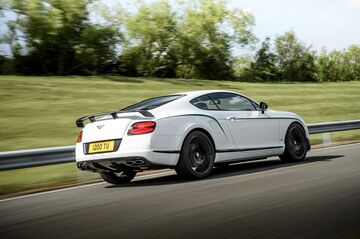 GT3-R t is most directly related to the GT3, a specific segment of racing cars that began in 2005. But unlike other models you might consider against it – Audi's R8, Porsche's 911, Rolls-Royce's Wraith, Ferrari's California T – the car is neither a superfast sport coupe (at 4,840 pounds it can't keep up with the 3,153-pound 911 GT3) nor an incomparably posh sport tourer (the $285,000 Wraith is steeped in oak, wool and leather; the GT3-R has no wood inside at all). It is neither Porsche nor posh. It belongs to its own category.
And, I predict, it will become very collectible.
Cornering King
The GT3-R has a racing-tuned 4.0-liter, twin-turbo V8 engine (572hp, or 592hp with overboost) and 8-speed transmission (516 ft-lb of torque). It will get to 60mph in 3.6 seconds – faster than the 3.8-second Porsche Carrera 4 GTS but not even close to that 3.3-second 911 GT3 – and will hit 170mph at top speed. Combined fuel economy is roughly 23mpg. Respectable.
The car drives like a gentleman boxer would fight: cheery and composed; elegant, even leonine, in movement. He'll never flinch. He may not win every fight, but he'll do all right in 9 out of 10. And the 10th one is when you'll most admire his pluck.
On corners, where it excels, the car attacks the road more solidly than a whip-light 458 but more nimbly and athletically than its Continental GT cousins. Its brand-new pistons, turbochargers and heightened engine calibrations make it hungry for the road. It also has a fresh titanium exhaust system -- which alone lightened it over the previous models by 7kg -- plus track-optimized air springs and dampers, and carbon-ceramic disc brakes on its 21-inch forged alloy wheels.
Winding my way through those California hills was one of the more memorable drives I've had -- I expect those improvements are the main reason why.
British Restraint, Sort Of
From the outside the car is certainly noticeable as a fighter among its more civilized brethren. Just one look at the massive diamond grille, the sets of round headlights, the wide muscular stance of the wheels, the taunt flare of the rear fenders, and you'll know it belongs to Bentley. I'll even go on the record as saying that, as a group, these are the most handsome modern cars on the market today.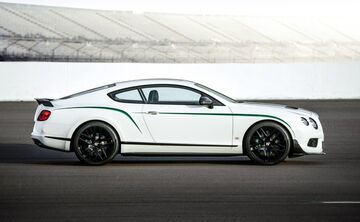 That said, I don't typically like the look of the sport packages automakers throw at their coupes – the Skittle-colored striping, unnecessary chrome, oversized rear fins and overdone amounts of carbon fiber just seem tacky. Like what an over-hyper adolescent would chose for his comic-book superhero's whip.
I understand that most of the time, that's the point. Those guys (or their adult counterparts) are the direct-target buyers. But I've always wanted to see a sport package for adults. An upgrade for those able to appreciate something more complex. The glacier white paint, British racing-green side strips, carbon-fiber diffuser, and (admittedly large) rear wing on this GT3-R come pretty close.
Interior Intensity
Inside, though, someone at Bentley got aggressive with the green paint. There are multiple broad, bright, bold green swipes and stripes throughout. It comes off pretty strong.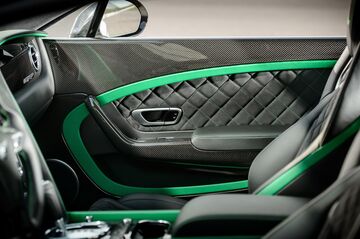 Next time I'm in a GT3-R, though, I'll just close my eyes and settle in: the bespoke carbon-fiber-backed racing seats are probably feel the best I've felt when it comes to a sports coupe – usually cockpit-style race seats make my long back sit too upright, leaving it stiff and fatigued after a few hours at the wheel. The Alcantara quilting on the door-sills and matching carbon on the dash blend together well. Despite the green blitz, it all feels somehow restrained.
The rest of the interior feels refreshingly bare and cavernous because (1) it's a Bentley, which automatically feels bigger than other sports cars, but also (2) Bentley hasn't padded it out the customary way with leather and wood and steel and cushioning.
In fact, the relatively composed overall look of this racer matches the way it drives. It's lean and quick, of course, but also well within itself. You don't ever feel the car is straining. It's confident in its own ability. Which is the best sort of racing car, because it makes the driver feel confident in his ability. And that's how you have the most fun. It's an alcohol-free buzz.
Before it's here, it's on the Bloomberg Terminal.
LEARN MORE