The U.S. Travel Industry Can't Wait to Take You to Cuba
The Obama administration's move to normalize relations with Cuba has the travel industry salivating
By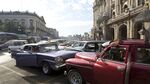 For Americans seeking sand and sunshine, this week's announcement of normalized diplomatic relations between the U.S. and Cuba offered the future prospect of an enticing new travel destination. And for the U.S. travel industry, the policy—though it doesn't fully open tourism to Cuba—has provided an exciting jolt of new possibilities. Namely, hordes of U.S. tourists shelling out to visit the formerly forbidden country.
"This news from Cuba is interesting to us," said Andrew Alexander, president of Red Roof Inn, which announced its first international location, in Brazil, on Dec. 17. "I view it as the first step, and one that probably will ultimately lead to a further opening of the country. Which certainly makes Cuba—from a tourism standpoint—a target for most hotel companies."
Visiting Cuba is like stepping back to an earlier time, before fast-food outlets and strip malls—and it's not just because of the 1950s-era American sedans still on the roads, say people who have visited. "The first thing you learn when you step off the plane is everything you thought about the place isn't true," said Bob Guild, vice president of Marazul Charters, a travel company that organizes daily charter flights from Miami to Cuba. Guild has visited the island "40 or 50 times" and says that Cuba has lost its political charge for most Americans and should not be restricted.
Sensing a huge business opportunity, many U.S. companies agree. "We believe passionately in the power of travel to bring peoples of different countries together," an Orbitz spokesman said. "Visit Cuba in 2015 before the crowds," Travelzoo blared Thursday in a tout for the small educational tours allowed under U.S. Treasury Department rules. "We believe that there is no greater way for Americans to break down barriers than through their unimpeded travel, where we collectively can exchange in a free flow of ideas," Travel Leaders Group, which is based in Plymouth, Minn., and is one of the largest U.S. travel agencies, said in a news release.
But don't pack your bikini for Havana just yet. Any move to open the tourism floodgates would need to come from Congress, an institution not known for alacrity or smooth functioning. There's also the matter of infrastructure—Cuba has a thriving tourism industry but isn't ready for a massive influx of American tourists. Moreover, even with Cuba's trade and foreign investment from Latin America and Europe, the half-century-old U.S. embargo means that the nation's economy is frail. Rationing of basic goods is common, and the black market flourishes. The government keeps close watch on visitors' movements, which makes serious crime uncommon but keeps much of the nation off-limits to travelers.
Even though Cuba needs greater foreign investment, the government is likely to continue its control over the movements of tourists, who are restricted mainly to the beach resorts, said Roger Block, an executive with Travel Leaders Group. Those who oppose any softening of the American stance toward Cuba—mainly the Cuban-American community in Florida—wield clout with some in Congress, which could leave the travel industry in the same spot it has been for decades. "I keep saying it's inevitable, and I've been doing this for 35 years," says Guild, "so I'm not to be believed."
Block, who helped to organize a Cuba tour in February for employees of several U.S. agencies, said that U.S. cruise lines such as Carnival and Royal Caribbean are likely to be the first contact for many Americans in Cuba. The nation has multiple ports for large ships and could more easily control cruise visitors, who tend not to stray far from port. On an earnings call today, Carnival Chief Executive Arnold Donald said that the company is "excited about the prospects for Cuba, and [fewer travel restrictions] would definitely create the demand we need."
Cuba is also an affordable beach destination relative to its Caribbean island competitors, given the state of its economy and low wages, he said. That would change rapidly as Americans showed up, but it's unclear how much U.S. investment Cuban authorities would allow. The first U.S. visitors, travel experts said, would invariably be a younger, curious crowd. "There's that allure," Block said, "of being the first there."