Roche Drug Combination Shows No Added Benefit in Study
Phil Serafino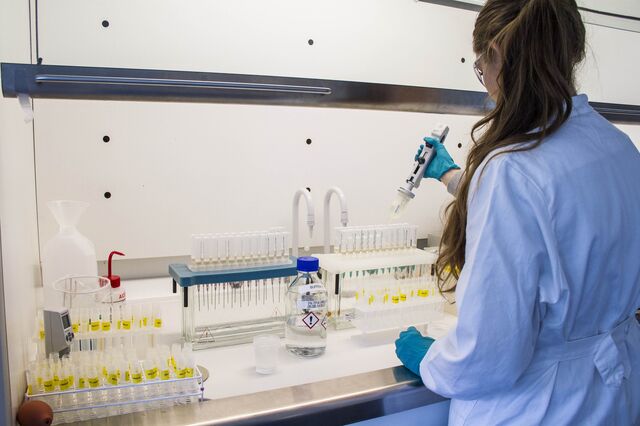 Roche Holding AG reported disappointing results from a study that combined two of its newer drugs for breast cancer, denting the company's hopes of broadening the market for treatments that are already among its fastest growing. Roche shares slumped the most in more than five years.
Patients who got a combination of Kadcyla and Perjeta lived without their disease worsening for a similar amount of time as those who got Kadcyla alone, or those receiving the older medicine Herceptin plus chemotherapy, the Basel, Switzerland-based company said in a statement today. The study, dubbed Marianne, looked at 1,095 patients with a genetic mutation known as HER2 whose cancer has spread and who haven't already tried other treatments.
A successful combination of Kadcyla and Perjeta may have helped Roche replace sales of Herceptin that the company would lose should that medicine face competition from cheaper copies in coming years. Herceptin was Roche's third-biggest drug in the first nine months of this year, with revenue of 4.7 billion Swiss francs ($4.8 billion).
Analysts' sales estimates for Kadcyla "will have come down significantly," Fabian Wenner, an analyst at Kepler Cheuvreux in Zurich, wrote in a report today. The failure, along with Roche's decision announced today to end a trial of a drug for Alzheimer's disease, raises the likelihood that the company will undertake additional expensive acquisitions, he said.
All three drugs -- Kadcyla, Perjeta and Herceptin -- are approved to treat breast cancer in patients who have a genetic mutation that results in cells producing too much of a protein known as HER2. That overproduction leads to uncontrolled growth in breast cells. People with the mutation account for about a fifth of the breast cancer patient population.
Other Studies
"We had hoped to show improvement in progression-free survival without the use of traditional chemotherapy," said Sandra Horning, Roche's chief medical officer. "While Marianne didn't achieve this result, we will continue to study these medicines, as well as investigational treatments for other types of breast cancer, with the goal of improving outcomes for patients."
Roche shares fell 6.1 percent to 271.20 francs at 3:35 p.m. in Zurich. The stock slumped as much as 6.1 percent, the steepest intraday drop since April 2009. ImmunoGen Inc. of Waltham, Massachusetts, which makes a component of Kadcyla and receives royalties on sales of the drug, plunged 47 percent to $5.70 at 9:47 a.m. in New York.
Kadcyla is approved for inoperable cancer that has spread and stopped responding to other treatments. Sales of the drug jumped 148 percent in the first nine months of the year to 371 million francs. Perjeta, which is used in combination with Herceptin and chemotherapy, is approved to treat both early-stage breast cancer and advanced cancer that has spread. Revenue from Perjeta surged 255 percent in the nine months to 633 million francs.
Cost Scrutiny
One obstacle Roche faces in some countries is persuading governments to pay for Kadcyla. The U.K.'s state medical-cost watchdog said in August that the treatment's cost was too high to add the drug to the National Health Service's budget for routine funding, even though it helped patients. Kadcyla cost 90,831 pounds ($142,200) for a 14 1/2-month course of treatment, the National Institute for Health and Care Excellence said.
Roche said at the time it was working on "innovative pricing models" in the event combination therapies like Kadcyla-Perjeta are proven to work.
Analysts predict Perjeta will generate annual sales of 3.4 billion francs by 2019, while Kadcyla will garner 2.2 billion francs, according to estimates compiled by Bloomberg.
The Swiss drugmaker said separately today that it's stopping a study of an experimental treatment for Alzheimer's disease in people who aren't yet showing symptoms of dementia. The company made the decision after interim results and a recommendation from an independent data monitoring committee. The drug, gantenerumab, continues to be studied in other Alzheimer's trials.
Before it's here, it's on the Bloomberg Terminal.
LEARN MORE