President: New Policy Will Speed Change in Cuba
Angela Greiling Keane, Jonathan Allen and Mike Dorning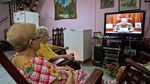 President Barack Obama said restoring diplomatic relations with Cuba will speed change on the island, in a defense of his new policy punctuated by a light-hearted joke about the nation's long-time dictator, Fidel Castro.
The president tamped down speculation he would fly to Havana to meet with the country's president, Raul Castro, saying today he had no immediate plans to do so and that a trip to Cuba might only come after he's left office.
Obama spoke two days after he announced the U.S. would move to restore diplomatic relations with Cuba for the first time in more than a half-century.
The planned loosening of travel and trade restrictions "chips away at this hermetically sealed society," the president said at a White House news conference. "Change is coming to Cuba. It has to. They've got an economy that doesn't work."
A full lifting of the U.S. embargo on trade and travel would require action by Congress, where Cuban-American lawmakers have denounced Obama's action as a capitulation to the Castro regime. Some Republicans, led by Florida Senator Marco Rubio, a potential contender for his party's 2016 presidential nomination, say they will work to block Obama from normalizing relations with Cuba.
Obama's policy change was the culmination of more than a year of secret negotiations that involved an intercession by Pope Francis, the facilitation of the Canadian government and an extraordinary telephone conversation between the U.S. leader and the Cuban president.
Castro Call
Obama today recounted part of the call. He said that in speaking to Raul Castro, his older brother Fidel came up only once. After making introductory remarks lasting 15 minutes, Obama said, he apologized to the Cuban president for the length of his remarks.
"Don't worry about it, Mr. President. You're still a young man, and you have still the chance to break Fidel's record. He once spoke seven hours straight," Obama said Raul Castro told him. "And then President Castro proceeded to deliver his own preliminary remarks that lasted at least twice as long as mine."
The embargo of Cuba is one of the last remnants of the U.S.-Soviet Cold War, one that has persisted in part because of the influence of the Cuban-American exile community in Florida. Generational shifts have reduced support for the embargo, though Obama's moves drew criticism from some Cuban-American lawmakers.
Cuba also is confronting geopolitical shifts as its longtime patrons, Russia and Venezuela, have lost influence and now are squeezed by plummeting oil prices.
Within the deal the two governments wrapped the release of American aid worker Alan Gross and the exchange of a U.S. spy being held in a Cuban jail for three Cuban intelligence agents. Cuba also agreed to release 53 people the U.S. considers political prisoners, U.S. officials said.
While Obama's changes won't open Cuba to U.S. tourism, they will make it easier for U.S. businesses to export to Cuba's construction, telecommunications and agricultural sectors. Commerce Secretary Penny Pritzker is planning a trade mission to the island.