Meredith Whitney's Hedge Fund Said to Be in Turmoil
Max Abelson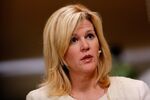 The hedge fund Meredith Whitney started last year after she became one of Wall Street's best-known analysts is in turmoil. Her biggest investor demanded his money back and two executives left in the past month, according to a person with knowledge of her firm.
A fund connected to billionaire Michael Platt's BlueCrest Capital Management asked to redeem its investment at least twice, according to the person, who asked for anonymity to describe the private exchanges. Her Kenbelle Capital LP started trading in November 2013 with about $50 million from BlueCrest partners and other investors, according to a fund presentation last year.
Stephen Schwartz, a co-founder and portfolio manager, left last month, his LinkedIn profile shows. Andrew Turchin, the chief financial officer, exited as well, the person with knowledge of the firm said. Chief Administrative Officer Brittani Caetano joined another hedge fund this month, according to LinkedIn.
Whitney had aimed for returns of 12 percent to 17 percent, according to the fund presentation. Instead, her American Revival Fund LP lost 4.7 percent through the first half of the year, an investor letter this July showed.
"Meredith is a brilliant woman and somebody who is indefatigable in her will to succeed and to win," her attorney, Stanley Arkin, said today in a phone call. Colleagues left by "mutual agreement," he added. BlueCrest's redemption request violates their agreement and "had to do with the way the market is moving," he said.
'60 Minutes'
Whitney, 45, gained Wall Street renown during the financial crisis for correctly predicting Citigroup Inc.'s dividend cut. Then, on CBS Corp.'s "60 Minutes" in December 2010, she predicted hundreds of billions of dollars of municipal-bond defaults.
She later told Bloomberg News it had been "a guesstimate" involving "fifth-derivative dimensions." Instead of collapsing, municipal bonds became a star performer. More recently, she predicted that growth in states including Arkansas and South Dakota will be twice the national average.
She also started her own advisory firm, deregistering its brokerage unit, Meredith Whitney Securities LLC, in August 2013 after three unprofitable years, industry records show.
Others are finding profits hard to come by, too. Hedge funds are shutting at a rate not seen since the financial crisis, with 461 closing in the first half of the year, according to Hedge Fund Research Inc.
Schwartz, a former SAC Capital Advisors LP trader, spoke last month about hedge funds at a breakfast held by Fairfield College Preparatory School in Connecticut.
"You need to always be walking up that flight of stairs," he said, citing a favorite quote about finance. "And once you start walking back down, it's almost impossible to go back up."
Before it's here, it's on the Bloomberg Terminal.
LEARN MORE