Longer Hours for Congress?
Billy House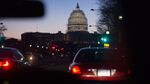 A new session means a new set of rules of protocol for the U.S. House of Representatives, and members are pushing for changes on their pet issues even when they have little chance of success.
Representative David Jolly says lawmakers should have to work full days, all week long, 8 a.m. Monday to 6 p.m. Friday -- like "those of every other working American," according to the Florida Republican. Others seek to change legislative customs, such as a Republican tradition that says only bills supported by most of the majority get to the floor.
With a new Congress convening on Jan. 6, House members are updating rules to govern the next session. While Democrats -- who will have 188 representatives to the Republicans' 247 -- also propose changes, having more members means the Republicans will have the most sway on what moves prevail in the vote, one of their first actions. It will come right after they decide on a speaker, a decision that almost certainly will hand the gavel again to John Boehner of Ohio.
Maryland's Steny Hoyer, the second-ranking Democrat, is pushing Republicans to extend employment protections to lesbian, bisexual or transgender congressional employees. The House has no official policy against discrimination on the basis of sexual orientation or identity, he said in an e-mailed statement.
Unveiling Package
House Rules Committee Chairman Pete Sessions of Texas is set to unveil a proposed rules package to members and the public on Dec. 23. Some lawmakers say they already have signals that their ideas have been rejected.
Among them is Representative David Cicilline, a Rhode Island Democrat who -- with Virginia Republican Scott Rigell -- is pushing to hold House members to the same ethical training requirements as senators and staff members from both chambers. Cicilline says the wording of a Dec. 8 letter he received from the Rules Committee chairman doesn't endorse his proposal.
Sessions wrote to Cicilline that he will "send a letter to all of our incoming freshman members reminding them to familiarize themselves with the Code of Conduct," as well as get their staff formal training.
Cicilline said he is exploring whether he can try to amend the rules package after it comes to the floor for a vote.
Another proposal not expected to succeed is one from Representative Jim Cooper, a Tennessee Democrat, to eliminate the so-called "majority of the majority rule" or "Hastert rule," named for former Speaker Dennis Hastert of Illinois. It is the informal practice that bars a vote on legislation unless it has the support of a majority of House Republicans.
The practice has allowed Boehner to deflect blame for not putting divisive measures on the House floor -- such as a revamp of immigration policy -- even if the legislation would pass with Democratic support.
Majority 'Tyranny'
"What we're talking here is tyranny by the majority," Cooper said during a hearing in September.
Senior House Republican aides point to Boehner's words last year on the subject to suggest it won't be part of the package: "Listen, it was never a rule to begin with."
In other words, it's a practice, not a rule to be officially changed. And Boehner has broken with it several times this session, including on votes for disaster relief for victims of Superstorm Sandy in 2012 and the Violence Against Women Act, which both passed with Democratic support.
Another proposal with little chance would require House members, when in Washington, to work Monday through Friday. It's being pitched by Jolly, who wrote to a Rules subcommittee that "a work week in Washington should be no different than a work week in every other town across America."
Positive Results
Many weeks, House lawmakers don't arrive in Washington until Monday night or Tuesday, then leave for home Thursday afternoon or evening. "Spending more time in session and creating more avenues of communication across party lines and between both chambers will yield only positive results for Congress," he wrote.
Representative Eric Swalwell has proposed allowing members to vote remotely on some legislation. The California Democrat suggests that lawmakers shouldn't be required to physically be in the chamber to vote on non-controversial motions.
Other ideas being pitched to House rule writers include a suggestion from Representative Don Young, a Republican from Alaska, to loosen a ban on so-called member-sponsored items, to allow appropriation earmarks for federal, state, local government or Native American tribes.
Another would let delegates from the five U.S. territories -- Puerto Rico, Guam, the U.S. Virgin Islands, American Samoa, and the Northern Mariana Islands -- and the District of Columbia use a discharge petition, a way of getting a vote on a bill even if the committee responsible for it won't send it on. Current rules restrict the privilege to representatives from the 50 states.
There also are proposed changes to committee jurisdictions, some reflecting turf tensions. Among them are calls to reduce the proliferation of panels in Congress that exercise some oversight of the Department of Homeland Security -- about 100 committees, subcommittees, caucuses and commissions across both chambers in all.