Japan's Amari Wants Corporate Taxes Cut as Quickly as Possible
Keiko Ujikane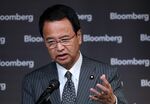 Japan's corporate income tax may be cut by more than 2 percentage points next year and reduced to less than 30 percent within five, Economy Minister Akira Amari said.
"Reports of a cut of 2.4 percent or 2.5 percent aren't far from the truth," Amari said today in Tokyo, referring to reductions in the company tax rate for next fiscal year. "We want it done in as few years as possible, and to have an impact."
After a landslide election win this week, Prime Minister Shinzo Abe's government is looking to pull the economy out of a mid-year recession. Company tax cuts are the centerpiece of efforts aimed at revitalizing growth and making the nation more appealing to invest in.
Abe's government said in June that it would reduce the effective corporate tax rate to less than 30 percent over a few years, beginning in the fiscal year starting in April. Japan's tax rate is about 35 percent, the second highest among Group of Seven nations, according to the finance ministry.
"I've said before that a few years basically means within five years," Amari said today at a seminar held by Bloomberg in Tokyo. "If we could shorten that, it'd be good, but considering Japan's fiscal situation, it'll be difficult to do in 2 or 3 years."
In addition to tax cuts, the government is considering an extra budget of as much as 3 trillion yen ($25 billion) to support the economy and help pull it out of recession, according to people involved in the discussions.
Wage Growth
Amari said the government will aim for wages to rise faster than inflation next year. Abe this week secured a pledge from businesses to do their best to boost pay to revive the world's third-biggest economy.
Amari said today the government is aiming for real wage gains next year, where pay rises more than inflation, even including the effects of April's sales tax increase.
Earnings adjusted for price changes fell 3 percent from a year earlier in October, the 16th straight month of declines. A sales-tax increase in April helped to fuel inflation, and caused households to cut spending, pulling the economy into recession.
At a meeting with companies and unions this week, Abe called on companies whose earnings have benefited from the weaker yen to boost wages and investment and take into account prices they pay their suppliers. Japan's government and ruling coalition are considering a tax break for companies that increase wages by 3 percent or more, the Nikkei newspaper reported on Dec. 17.
Before it's here, it's on the Bloomberg Terminal.
LEARN MORE