Black Twitter Persuades Advertisers to Boycott VH1's Terrible New Reality Show
Viewers are outraged by the show's depiction of black sorority sisters
By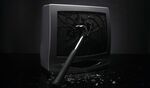 On Dec. 15, VH1 premiered its newest reality TV show, Sorority Sisters, a chronicle of the lives of nine black sorority sisters. Within less than four days, Black Twitter judged the show so offensive that it mounted a boycott via the social network—and advertisers are listening. So far at least 29 companies, from Olive Garden to Honda Motor, have said they would pull their ads from the show. 
Setting aside for the moment the show's racial elements, Sorority Sisters is not very good. The intro features an excessively choreographed sequence of masked "sorors" facing off against one another. The drama—two sorority sisters operating rival boutiques; one woman "investigating" whether another is a "real Delta"—isn't very dramatic, which makes it hard to care. Then there's the noise. From the beginning, the show is rife with catfights and intersorority dissing. In its first two and a half minutes, the pilot shows six women crying. One is heard sobbing from a bathroom stall, "Help me, Jesus, to understand."
"VH1 has long used a formula where they cast African American women whose outrageous behavior conforms to numerous caricatures of black women," says Lawrence Ross, author of The Divine Nine: The History of African American Fraternities and Sororities and one of the organizers behind the protesting of Sorority Sisters on social media.
VH1 says it has no plans to scrap the show. "We are definitely hearing the conversation around 'Sorority Sisters' and are taking the concerns of our viewers into account. Currently there are no changes planned for the series," a VH1 spokesperson said in an e-mail to Bloomberg Businessweek.
To be fair, reality TV has never had a reputation for actually depicting reality. The Hills, Keeping Up With the Kardashians, and The Real Housewives of New Jersey thrive on the crying, screeching, and backstabbing of their predominantly female stars. An obvious difference between such shows and Sorority Sisters is that the latter focuses on black women, who are underrepresented in the media to begin with.
What's more, Sorority Sisters, which features quick-to-anger "sorors" such as a woman who's ready to "find a real career" five years out of college and a former pageant queen turned burlesque dancer, doesn't seem to stray far from the tired tropes women have said they're sick of seeing. More than 1,000 black women surveyed by Essence magazine last year said they were tired of most frequently noticing black women portraying "baby mommas," "angry black women," "gold diggers," "uneducated black women," "black barbies," and "mean black girls."
Advertisers are taking notice. The list of companies that have said they'd pull ads from Sorority Sisters has swelled in the past week to include AT&T, Carmex, Coca-Cola, Country Crock, Crayola, Disaronno, Domino's Pizza, Hallmark, Honda, J.C. Penney, Olive Garden, Sprint, T-Mobile, and more. Protesters have called out other VH1 sponsors in an "Anti-Xmas Boycott List" on Facebook.
The #BoycottSororitySisters hashtag campaign seems to be working, and the tweeters behind it say they don't plan on stopping until the show is gone—for good. Says Ross: "We'll not be satisfied by them moving it to their digital platform. They need to shelve it completely."