Widodo Taking on Oil Mafia Seen Halting Bond Slump: Asean Credit
Yudith Ho and Yumi Teso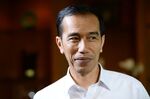 Indonesia's intervention to reverse a slide in rupiah bonds is buying the market time as President Joko Widodo's clean-up of the energy industry wins investor plaudits.
While the yield on benchmark 10-year sovereign notes surged as high as 8.45 percent this week, wiping most of this year's decline, it's been falling for the past four days as the central bank intervened to support prices. The government's debt is still Southeast Asia's best performing for 2014 even after December's rupiah slump triggered declines.
Widodo has vowed to curb anti-competitive forces in the oil and gas industry that his government called a "mafia" after cutting fuel subsidies, a move that freed up 140 trillion rupiah ($11.2 billion) of state funds. After hiring an anti-corruption team at the energy ministry and replacing all the directors at state-owned PT Pertamina, he's now seeking to set a fixed amount of state aid, making the budget less vulnerable to market swings.
"We see potential gains in bonds as inflation normalizes following the fuel-price rise," said Ezra Nazula, who oversees more than $2 billion as head of fixed-income at PT Manulife Aset Manajemen Indonesia in Jakarta. "There's a chance that rating agencies may improve their assessment of Indonesia on the back of fuel reforms, which paves the way for a number of other reforms."
Market Selloff
Record foreign purchases of sovereign bonds were curbed this month by 19 trillion rupiah of withdrawals starting Dec. 2. Global funds have added 139.4 trillion rupiah to their holdings this year through Dec. 17, compared with 53.1 trillion rupiah of inflows in 2013.
Indonesia's central bank intervened this week to prop up the rupiah amid an emerging-market selloff sparked by falling oil prices and a collapse in Russia's ruble. The authority said it had bought 200 billion rupiah of sovereign debt on Dec. 16 following purchases of 1.5 trillion rupiah the previous day.
Fixing amounts set aside for fuel subsidies would be positive for the sovereign's creditworthiness as it makes public spending more stable, Thomas Rookmaaker, a director of sovereign ratings at Fitch Ratings, said in a Nov. 27 e-mail.
The central bank called an impromptu meeting on Nov. 18, the day after the government said it was lifting fuel prices, to raise the reference rate to 7.75 percent, the highest level in more than five years. That's even as economic growth slowed to 5.01 percent in the third quarter, the least since 2009.
Rate Cycle
Eastspring Investments prefers Indonesia and India as Asian markets where the rate cycle is more advanced, currencies are supported by higher yields and the fundamental picture is set to improve, Boon Peng Ooi, chief investment officer for fixed income, wrote in a report earlier this month.
"Markets welcomed one of Jokowi's first macro policies on cutting fuel subsidies," said Hakan Aksoy, a London-based fund manager at Pioneer Investments, which oversees $246 billion globally. "If Jokowi navigates this complex environment to make incremental institutional improvements in time, we believe the market will adjust this in the prices very positively."
Curbing fuel aid isn't popular. Former dictator Suharto, who ruled the nation for three decades, was ousted in 1998 by protests within weeks of raising prices by 70 percent. However, last month's increase caused only small-scale protests from some student groups with no major demonstrations.
Gains Pared
Rupiah-denominated sovereign notes advanced 10.9 percent this year through Dec. 18, compared with a 9.5 percent gain on Thai notes and 6.7 percent for Philippine securities, according to Bloomberg indexes. Since the end of November, the 10-year yield has risen 41 basis points to 8.11 percent at 10.16 a.m. in Jakarta.
Returns were pared this month as the currency closed at the weakest since 1998. The rupiah slid 1.1 percent in December to 12,506 a dollar. The Bloomberg Dollar Spot Index, which tracks the greenback against 10 peers, has gained 11.8 percent this half and reached a five-year high on Dec. 5.
Moody's Investors Service and Fitch rank Indonesia's notes at the lowest investment-grade rating, with Moody's saying last month the fuel-price increase was credit positive as it signals a commitment to economic reform and will reduce the budget and current-account shortfalls. Standard & Poor's scores the bonds at the highest junk rating.
The finance ministry plans to propose a fixed gasoline subsidy of 1,000 rupiah to 2,000 rupiah a liter, according to a government official, who asked not to be identified because the discussions are private. The move would make the budget more predictable and less affected by price swings, Finance Minister Bambang Brodjonegoro said last month.
Emerging-market volatility may discourage investors from buying more sovereign debt before year-end, according to Koji Fukaya, chief executive officer and currency strategist at FPG Securities Co. in Tokyo.
"Domestic factors, including some positive factors, remain in place, but the external environment is significantly worsening and tough for emerging markets," he said. "Risk-off sentiment is likely to continue for a while."
Before it's here, it's on the Bloomberg Terminal.
LEARN MORE