Putin's Extremely Long, Very Weird Press Conference
By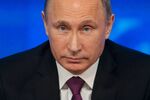 Russia wants a unified, peaceful Ukraine. The Russian economy is going through a temporary rough patch but is not in crisis. And, oh yes, Russia is fortunate to have kvas, an alcoholic beverage made from fermented bread, to compete with Western soft drinks.
Those were some of the takeaways from President Vladimir Putin's annual press conference today, Dec. 18, a marathon event that put on full display his master-and-servant relationship with the Russian news media. Speaking for 3.5 hours, Putin appeared relaxed and confident, fielding mainly softball questions while reassuring his countrymen that he has a firm hand on the economy and is defending Russia against "external forces."
Referring to heightened tensions with the West, Putin likened Russia to a bear that refuses to "sit quietly and eat honey" while its adversaries "pull out its teeth and claws." He acknowledged the economy was going through a "difficult period" but predicted recovery within two years and said the government and central bank were taking "proper and correct" steps to control the situation. The gyrations of the ruble, which sparked panic in recent days, are not "a crisis," he added.
That was surreal enough, but it got a lot weirder. One reporter asked whether Russian supermarkets should stock kvas rather than Coca-Cola. (Putin replied that he didn't know whether Coke was harmful, although "many experts say it is," but said it was good that Russia had its own "national drinks.")
Another journalist queried Putin about his love life ("I'm fine," he replied without elaborating), while another asked if he would reinstate Soviet-era "Mother Hero of Russia" awards for women with large families. ("I would be very happy to support anything that leads to the support of motherhood," he said.)
In fairness, there were some tougher questions, but Putin sidestepped them, which was easy because no followups were allowed. One reporter, for example, asked why Putin was surrounded by "billionaires" and demanded to know the salary of Igor Sechin, a close Putin ally who heads the state-run oil company Rosneft. Putin ignored the billionaire remark, described Sechin as an "effective manager," and said he didn't know how much the Rosneft chief earned.
"Putin blamed all Russian economic woes on the evil West and gave no indication of the policies that could reverse the situation," Masha Lipman, a visiting fellow at the European Council on Foreign Relations, told Bloomberg News after the conference. "As always, he was adamant on always being right and not regretting anything."
If Putin's goal was to reassure his countrymen and investors, he may have achieved that for now. He promised Russians that despite tougher economic times, the government had "the resources and the necessary reserves" to maintain spending on social benefits, defense, and other programs. He also said the government wasn't considering capital controls that could scare away investment. In another gesture toward business, he suggested the government might show leniency toward Vladimir Evtushenkov, the head of blue-chip company Sistema, who was previously accused by the Kremlin of money laundering but was released from house arrest on Dec. 17.
The ruble, avoiding the sickening plunges of the past few days, was trading between 60 and 62 to the dollar after the press conference. The benchmark Micex stock market bounced up as much as 6.5 percent, but that was a reflection mainly of a slight rise in oil prices and relief over Evtushenkov's release.
Before it's here, it's on the Bloomberg Terminal.
LEARN MORE