Underfunded Ukraine Soldiers Get Helmets With Christmas Pies
Kateryna Choursina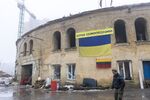 Tetyana Naumenko and her friends, holed up in a frigid abandoned fort near Kiev's city center, are ripping up wedding dresses. It's for a good cause.
Once enough dresses are torn up, the women take the strips and lace them onto fishing nets stretched across wooden frames. They're making winter camouflage for Ukrainian troops harried by gunfire from pro-Russian rebels in the eastern front.
The gear is more than a Christmas gift to the young men hunkered down in the snow. It offers vital protection not provided by the cash-starved Defense Ministry, which has lost three chiefs for incompetence since the February ouster of President Viktor Yanukovych and has seen its army shrink to as few as 128,000 soldiers from 900,000 after the Soviet Union split up.
"The authorities have to understand they aren't really doing the right thing," Naumenko said as she plucked white shreds from a mound and attached them to the mesh. "When these nets are ready, they'll go to soldiers the very next day, without the need for approval or verification."
As the conflict moves into its 10th month, hundreds of volunteer groups and executives are taking matters into their own hands to help the badly armed, under-clothed fighters sent to quell the separatist movement. Lacking protective gear and ammunition, and staples such as food and underwear, the troops have struggled to gain the upper hand in a bloody conflict that's killed over 900 government troops and more than 4,600 civilians.
Poor Effort
Even with backing from the U.S. and the European Union, the Ukraine military system has failed to execute the war effort properly, said Oleksiy Melnyk, a military expert at the Razumkov research center in Kiev.
As shelling leveled the Donetsk airport and damaged villages and towns across the region, Ukraine was fighting back with aging, often rusty tanks and armored troop carriers and many units were in need of ammunition, fuel and spare parts, say defense analysts including Melnyk.
"Why were soldiers at the beginning of the military conflict with Russia not supplied with individual protection?" Melnyk said in a phone interview in Kiev. "It just goes to show how little the military commanders value soldiers' lives."
Without a clear program for overhauling the military, defense spending was being sacrificed to narrow the state deficit, he said.
"The degradation of the Ukrainian army has been persistent and permanent," Melnyk said.
Military Buying
Defense Minister Stepan Poltorak's spokeswoman, Viktoria Kushnir, told reporters yesterday that military authorities are buying new equipment and restoring old materiel. Two days ago, the ministry received 12 air-to-air missiles, 22 aerial decoy flares and 15 semi-automatic guns for deployment on helicopters, she said.
"The Ministry of Defense of Ukraine continues to work to raise combat readiness," said Kushnir, adding that about 1,000 new and renovated pieces of equipment and weaponry will have been delivered to the military by the end of this year.
The Defense Ministry asked parliament to more than triple military spending in the 2015 budget to 50 billion hryvnia ($3.1 billion), or about 3 percent of this year's expected gross domestic product.
2015 Financing
It's also planning to spend 401 million hryvnia next year to upgrade military hardware, 7.5 billion hryvnia to purchase weapons and equipment and 95 million hryvnia to call up 40,000 conscripts and train 10,000 contract servicemen, Poltorak said in parliament Dec. 12.
Still, the country needs even more help, European Commission President Jean-Claude Juncker said on Dec. 17. He said the former Soviet republic will need another $15 billion in financial aid on top of a $17 billion loan from the International Monetary Fund.
The hryvnia has lost 48 percent against the dollar this year, the biggest decline among all currencies tracked by Bloomberg, making purchases of materiel abroad even more difficult.
The conflict broke out after Russian troops invaded the Crimea peninsula in late February and then annexed it from Ukraine in March. That sparked a larger separatist movement in the eastern Donetsk and Luhansk regions that Ukraine says is supported by the Kremlin. Russia, which denies involvement, is now reeling from the effect of falling oil prices and sanctions by the U.S. and European Union.
Chipping In
With the unexpected war taxing the military over the past 10 months, thousands of Ukrainians have chipped in cash to buy socks and gloves, boots and helmets so soldiers can continue to fight on the field.
Private charity groups and funds are springing up on social media sites, including Facebook Inc. and Twitter Inc., seeking supplies, cash and equipment to send east.
The Wings of Phoenix group reposted on Dec. 14 a plea for help to buy and deliver white fleece head covers to soldiers. Yesterday, the fund thanked volunteer groups for help in arranging delivery of 10 special beds for a military hospital in Chernihiv.
On Dec. 12, Volunteers of Kharkiv posted Facebook requests for New Year's sweets, camouflage gear, elbow and knee protectors, a potbelly stove and warm clothing.
In Kiev, a 40-year-old veteran who asked to be identified only as Matroskin said when he reached the front lines, he was shocked to find rusting Soviet-era equipment dating back to the 1960s and 1970s still being deployed. That wasn't all.
Village Help
During one foray into a village to buy food -- not provided by the unit -- an old woman offered his uniformed companion a sweater, asking, "'How do you guys fight a war wearing stuff like that?'" he said.
The unit spent as much time battling to keep equipment in working order as it did fighting the enemy, he said. The soldiers pulled together whatever money they had in cash, borrowed from families and withdrew money on debit cards to buy tools and spare parts such as filters and fan belts. Even ammunition dated back to Soviet times and wasn't always reliable, he said.
Outdated Machinery
"You repair one thing, and another thing breaks down in the process," he said during a non-combat-related medical leave in the capital. "Nobody cared if everything was outdated or not."
President Petro Poroshenko, in an address to parliament on Nov. 27, acknowledged a history of systematic incompetence in the Defense Ministry, stretching back through Yanukovych and predecessors.
"Our army has been ruined, our security service has been ruined," he said, urging an overhaul of the ministry. "We are firing those who are incompetent, and those who are caught stealing must end up in jail."
The ministry didn't immediately respond to a request for comment on alleged corruption.
Private sources also are contributing money to the Defense Ministry. It collected more than 150 million hryvnia in a campaign that urged citizens to send text messages that allowed the ministry to take a cut of the message cost from the phone company. From those funds it was able to afford fuel to operate military vehicles.
'Black Hole'
Business leaders are getting involved in fundraising. ArcelorMittal Kryvyi Rih, the Ukrainian branch of the Luxembourg-based steelmaker, spent more than 2 million hryvnia on bullet-protective vests and uniforms for 280 drafted workers, Serhiy Teslyuk, the company's deputy CEO for labor safety, said in November.
Vsevolod Kozhemyako, the owner of Agrotrade, a Ukrainian farming company based in Kharkiv, 200 kilometers northwest of the combat zone, went to see for himself how border troops in the Kharkiv region were digging in.
"What I saw was a black hole, with vehicles continually breaking down and soldiers perpetually fixing one thing or another" he said in an interview in Kiev.
It was after that trip that he established a fund called Peace and Order, raising millions of hryvnia from citizens and business associates to buy bulletproof vests, helmets, socks and underwear. He has also sent wheels, tank oil, uniforms, targeting devices, thermal vision devices and optic equipment to the front. He said he has to be careful about how he delivers money and goods.
Corruption Concern
"I wish there was some place where I could bring money and be 100 percent sure it will be used most efficiently and to the benefit of the army," he said. "This volunteer movement to help the army is the result of a total lack of trust in the structure, in bureaucrats and how they would handle money."
The ministry operates according to the "old ways," said Myroslav Hai, a National Guard veteran who fought in some of the conflict's first battles as a volunteer and later founded the Myr (Peace) & Co. fund.
"We had huge problems with supplies, from bullets to drinking water," he said. "For the first two weeks we were drinking water from puddles and rainwater, guys were draining water from radiators."
The situation has improved, he said, largely because of the charity work from citizens.
At the crumbling 19th century fortress, called Tower No. 4, within view of Kiev's towering skyline of modern office high-rises, the women meet nightly to produce nets before heading shipping them east.
Net Value
Naumenko quit her job as a state clerk to keep up her volunteer work in Kiev or distribute the donations directly to the soldiers. Last week, she and her friends loaded private buses with three tons of food and other goods, as well as six completed nets and shipped them to the front.
The Dec. 17 run included pies, cookies and cakes, Christian icons, prayer books and Christmas greetings created by children, said Naumenko.
"The girls here have cooked plenty for the guys," she said. Left to the government, the soldiers would be in dire straits, she said. "It just makes me want to pick up a pitchfork and head to the government building or the presidential office."
Before it's here, it's on the Bloomberg Terminal.
LEARN MORE