Pope Francis Scores on Diplomatic Stage With U.S.-Cuba Agreement
Alessandra Migliaccio and Gregory Viscusi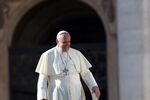 After misfires in the Middle East and South Korea, Pope Francis is finding his place on the stage of world diplomacy -- by taking the initiative.
The pontiff who has made his name mostly by opening up debate in the Catholic Church about divorce and homosexuality yesterday achieved his first geopolitical success: The Argentine-born pope played a key role in brokering the accord between the U.S. and Cuba to move toward normal relations.
After Pope Francis and President Barack Obama discussed Cuba during a Vatican meeting in March, the pontiff wrote directly to Obama and Cuban President Raul Castro urging them to conclude a prisoner exchange, according to an Obama administration official. It was the first such letter the president had received from the pope, the official said.
"The role of Pope Francis has been decisive," said Vatican Secretary of State Pietro Parolin on Vatican Radio today. "He was the one who took the initiative of writing to the two presidents to invite them to overcome the problems between the two countries and find an agreement."
Francis, 78, had greater success with Cuba than in his other political ventures because it was an obsolescent standoff waiting for a solution and because of his Latin American roots, said Philippe Moreau-Defarges, a researcher at the French Institute of International Relations in Paris.
"The Cuba situation simply made no sense to anyone anymore," said Moreau-Defarges.
Political Past
While the Vatican diplomatic corps exchanges representatives with 179 countries and popes have been sending emissaries since the 4th century, modern-day pontiffs haven't always been politically involved. Benedict XVI, Francis' German predecessor, focused more on doctrinal issues. His predecessor, John Paul II, pope from 1978 to 2005, spoke out frequently against military force and dictatorship and is credited with hastening the collapse of communism in his native Poland.
"The Vatican is historically a place of politics and not just religion and has been for hundreds of years, with many popes starting their careers as diplomats for the Holy See," said Federico Niglia, a history professor at Luiss University in Rome. "What's somewhat unusual is Francis acting in person beyond diplomatic circles, which has close parallels to the style of predecessor John Paul II."
The Vatican and White House said that Francis played a key role in the secret negotiations that helped the U.S. and Cuba move toward ending a trade and travel ban that is among the last remnants of the Cold War.
Two Delegations
When the pontiff reached out to the two leaders, low-level conversations were already taking place between Cuba and the U.S. on issues like the exchange of mail and migrants found at sea, the official said. In subsequent months, the Vatican hosted the two delegations at least once. Unlike Canada, which also hosted talks, the Vatican took part in discussions.
The Vatican also hosted a meeting in which the two sides reviewed the commitments they were making in terms of spy exchanges, the release of American prisoner Alan Gross, and other changes the two sides hoped to make, the official said, without providing details.
Throughout, Secretary of State John Kerry kept in contact with Parolin -- himself a former ambassador to Venezuela, a key ally of Cuba.
Upon acceding to the papacy in March 2013, Jorge Mario Bergoglio, a former archbishop of Buenos Aires, called on church leaders to focus their preaching on poverty and human suffering, and advocated freer discussion in the church on matters such as homosexuality, abortion and divorce -- while still upholding church doctrine on those issues.
Prison Inmates
As the first non-European pope in more than 1,200 years, he broke with protocol, plunging into crowds to shake hands, washing the feet of HIV/AIDS patients and prison inmates and speaking off the cuff and spontaneously to his followers.
"His biggest achievement has been the re-branding of Catholicism: It's no longer about abortion, birth control, homosexuality," said Thomas Reese, senior analyst at the National Catholic Reporter and Author of "Inside the Vatican: the Politics and Organization of the Catholic Church." Francis has "made the Vatican relevant again. He's not just about wagging a finger, he's a force of change."
It wasn't long before he got involved in international politics.
On a May trip to the Holy Land, he made an unscheduled stop at the wall separating Bethlehem and the Israeli road to Jerusalem. He prayed for five minutes near graffiti that read "Free Palestine." In June, he hosted then Israeli President Shimon Peres and Palestinian President Mahmoud Abbas to pray for peace together in the Vatican gardens, an unprecedented move coming as it did after U.S.-brokered talks had collapsed in April. Six months later, the negotiations remain stalled.
Middle East
The Middle East remains another central area of discussion between the Vatican and the U.S. administration, according to a State Department official who isn't authorized to speak publicly. Kerry is in regular touch with Parolin to discuss peace prospects and consulted with him on that issue during a visit this week.
Francis's calls for reconciliation between North and South Korea met with silence on North Korea's part. On the day he arrived on the peninsula during an August visit to Asia, North Korea fired missiles into the sea off its eastern coast.
"Some could say about he is not helping in some of the most serious cases and is meddling in things that don't concern him," said Mauro Magatti, a sociology professor at Milan's Catholic University who writes editorials about the church for Milan's Corriere della Sera newspaper and has taught in Argentina and the U.S. "His goal, however, is to try especially in desperate situations because that's where his moral authority and role as a third party might make a difference."
Old Neighborhood
Even though polls show that most Americans of Cuban descent favor normalized relations with the island, Senator Marco Rubio, a Florida Republican, yesterday took a dig at the Pope for his part in an accord that leaves the Castro regime in power.
"I think the people of Cuba deserve the same chances that the people of Argentina have had, where he comes from," Rubio said. "I hope that people with that sort of prestige on the world stage will take it out for the cause of freedom and democracy."
Francis, who celebrated his birthday yesterday, has always been interested in politics, say those who knew him back in Argentina.
"He is a politician, he is a Peronist from Flores neighborhood, a man from the people," said Eduardo Valdez, a diplomat who met him in 1998 and started holding meetings with him in 2000, referring to the populist movement that ruled Argentina off and on for much of the last century.
War Averted
The Vatican has had some of its greatest modern diplomatic successes in Latin America. A personal envoy of John Paul II negotiated a peace treaty between Argentina and Chile after they almost went to war over border issues in 1978.
"I am not surprised at all at the secrecy with which he pursued these talks between Cuba and the U.S.," said Guillermo Oliveri, who is in charge of relations with the Catholic Church at the Argentine Foreign Affairs Ministry. "His secrecy is the secrecy of a Jesuit, but it is especially the secrecy he always showed to me in the many years we discussed policies."
Before it's here, it's on the Bloomberg Terminal.
LEARN MORE