Lundergan Grimes Says She'll Keep Paul from Running for Two Offices in 2016
The former Senate hopeful says she will take the Republican to court if he tries to run for president and keep his Senate seat.
By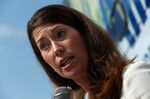 Kentucky Secretary of State Alison Lundergan Grimes said she will pull out all the legal stops to prevent Republican Senator Rand Paul from running for two offices at once in 2016.
Grimes, a Democrat who lost to incoming Senate Majority Leader Mitch McConnell last month, told Louisville's WHAS11 News in a story published Wednesday that if Paul tries to run for president in 2016 and keep his Senate seat, she will bring him to court.
"The law is clear," Grimes said. "You can't be on the ballot twice for two offices."
Earlier this year, a bill stalled in the state legislature that would have allowed Paul to run for both offices at once.
Paul has said he plans to seek Senate reelection, and his camp has signaled optimism that he could find a way to run for president simultaneously if he wants. "There are avenues available to him, should he decide to run for both offices at the same time," Doug Stafford, Paul's top political strategist, told reporters earlier this month.
Other states have allowed candidates to run for two offices at once. As WHAS11 News noted, Wisconsin Representative Paul Ryan and Vice President Joe Biden made vice presidential bids while also running to keep their seats in Washington.