OPEC's Loss of Control Creates Contagion Fears, Mitsui Says
Yuriy Humber and Ichiro Suzuki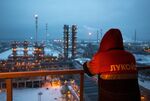 OPEC has lost control of the oil market, casting a shadow over the world economy, Japan's top crude trader says.
It could take oil company bankruptcies, production stoppages at higher-cost OPEC members, or a widespread shutdown of shale output in the U.S. to stabilize prices, said Joji Okada, chief financial officer at trading house Mitsui & Co., which has $107 billion in assets spanning 66 countries.
Oil's plunge is hitting hardest in Russia, the world's biggest energy producer, which has seen the government sell foreign exchange reserves in an attempt to stem a ruble collapse. The big risk now is contagion, said Okada.
"I'm really concerned for the global economy," Okada said in an interview at the company's Tokyo headquarters this week. Russia's woes alone wouldn't hurt Mitsui's profits "but a spillover from the Russian economy will impact other countries and that'll come back to us. That, I am afraid of."
The last time oil plunged in 2008, the U.S. was in a debt crisis that threatened to overwhelm the world economy. Although the U.S. isn't the source of potential contagion in the current slump, it doesn't mean it's immune to a global economic shock.
"It won't just be the producers who crumble while people in the U.S. fill up their cars with cheap gasoline," said Okada. "It'll be an issue for the global economy."
Okada said he's disturbed by how quickly the oil price has fallen this year. The Organization of Petroleum Exporting Countries, which decided last month against cutting output in the face of a global glut, no longer seems as though "it is the structure that can control things," Okada said.
Shale Output
"We're in a situation where oil prices are set to keep dropping as the basic supply-demand balance is loosening," Okada said. "When will we see a turning point? I don't know."
In 2008, oil traded in New York dropped from $145 a barrel to $34 in the space of five months. This year's decline to $55 a barrel from $107 a barrel began in June.
Mitsui's U.S. shale assets earn about 4 billion yen ($34 million) before tax a year, he said. The company also pumps oil from the North Sea, exports Russian and Qatari natural gas, and drills in the Gulf of Thailand, as it seeks to deliver on a historical mandate of securing supplies for resources-poor Japan.
If prices worsen, Saudi Arabia, the biggest producer inside OPEC, will need to tap its national reserves to plug its deficit, while the position of other group members such as Venezuela is "becoming painful," Okada said.
'Strong One'
While contagion from energy-producing countries is a risk, Okada says world markets have seen worse. One difference to 2008 is the health of the world's biggest economy. "This time round, the U.S. is the strong one," Okada said.
Mitsui will more fully register the impact of lower oil prices in the next fiscal year beginning April due to the lag in market movements filtering into earnings, Okada said. The firm relies on energy and commodities for about 90 percent of profit. It's Japan's biggest seller of iron ore, which trades for about a third of the price it fetched three years ago.
Mitsui can still meet its profit target of 380 billion yen this year as a weaker yen offsets lower commodity prices, Okada said. "Next year, I can't say right now if profit will fall. I can't say it will rise either, but I feel that might not be the case," he said, adding that it's too early to forecast.
At this point, Okada doesn't see the oil and iron-ore price declines as a reason to scale back on Mitsui's 1.5 trillion-yen, three-year investment program initiated in April. That includes developing its 20 percent-owned Mozambique liquefied natural gas project with Anadarko Petroleum Corp.
Investment Decision
The Japanese firm will make an investment decision on the project next year. It's already seeing interest from customers in India, Thailand and Japan, and even at current oil prices Mitsui can make money there, Okada said.
Lower commodity prices offer Mitsui an opportunity to make acquisitions, although a net expansion isn't on the cards as it would also shed less-profitable businesses, he said.
"There is a chance we will make a big purchase, but we're mindful of our cash flow," Okada said.
Mitsui decided in February to carry out its first share buyback in over a decade. Now that oil has joined the rout in commodity prices, dividend payouts will be favored over buybacks as overseas investors prefer their predictability, Okada said.
"Stable dividend will be our base, and in addition we'll take a flexible approach to buybacks," he said.
Before it's here, it's on the Bloomberg Terminal.
LEARN MORE