East of Ebola, West of Oil Is Ivory Coast Refuge: Africa Credit
Olivier Monnier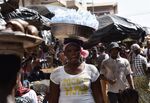 With countries to the west battling Ebola and nations to the east facing plunging oil prices, Ivory Coast is weathering the West African storm.
The world's biggest cocoa producer is shaking off more than a decade of political instability with economic growth above the sub-Saharan African average before elections next year, the first since a Eurobond default four years ago. Moody's Investors Service rates Ivory Coast one step higher than neighboring Ghana and the nations are on par at Fitch Ratings Ltd.
"There's a new track record that's very positive," Arnaud Louis, a London-based associate director of sovereigns at Fitch, said by phone on Dec. 11. "It's a combination of high growth, support from international donors, structural reforms under way, the improvement of the political and security situation, the resumption of payment on the Eurobond."
Ivory Coast's economy is forecast to expand 8.5 percent this year, beating the sub-Saharan African average of 5.1 percent, according to the International Monetary Fund. The country emerged from instability in 2011 with a new president, Alassane Ouattara, who pledged to build infrastructure and attract investment into a country once regarded as the most developed in West Africa.
Ivory Coast missed interest payments in December 2010 after the outcome of an election was disputed by President Laurent Gbagbo, leaving the nation of 20 million people mired in conflict that lasted until April 2011, when he was arrested. It returned to international debt markets in July, raising $750 million of 10-year Eurobonds, with demand exceeding supply more than six times.
Abidjan Fireworks
Fireworks lit up Abidjan on Dec. 16 as Ouattara unveiled one of his highest-profile projects, a 270 million-euro ($336 million) bridge spanning the commercial capital's lagoon. The economic growth has mainly been driven by government spending, Stephanie Simon, head of capital markets at Abidjan-based investment adviser Hudson & Cie., said by phone.
The government has "made structural reforms in various sectors of the economy to improve the business environment to attract foreign and domestic investments," she said. The economy grew 9.8 percent in 2012 and almost 9 percent in 2013.
Eastern neighbor Ghana is suffering power cuts and a currency that has slumped 26 percent against the dollar this year. According to the IMF, Ghana is forecast to grow 4.5 percent this year and 7 percent in Nigeria, where the government is facing shortfalls from slumping crude, the source of about 70 percent of revenue. It's also struggling to contain an Islamist insurgency that's killed thousands in the north.
Markets Selloff
On Ivory Coast's western front, Liberia, Guinea and Sierra Leone are battling the worst ever outbreak of Ebola, which has left 6,841 dead as of Dec. 15, according to the World Health Organization.
"In the current context, Ivory Coast appears like a hub of stability," Fitch's Louis said. "It's a former leader that yearns to take its place back on the podium."
Yields on the country's debt due July 2024 fell a second day, dropping 50 basis points to 6.14 percent by 3:51 p.m. in London, the most since they were issued. Ivorian bond yields surged along with emerging markets this quarter, propelled by crude prices sliding below $60 and expectations that the Federal Reserve will raise interest rates as early as next year, curbing the appeal of higher-yielding developing-nation assets.
As a net oil importer, Ivory Coast stands to benefit from lower prices, said Hudson's Simon. The CFA franc currency, shared by eight West African countries and pegged to the euro, gives price stability, she said. Inflation was 1 percent in November, while in Guinea, where the Ebola outbreak was first reported, consumer prices accelerated at an annual rate of 9.5 percent last month. Ghana's rate rose to 17 percent.
Flawed Contracts
Ivory Coast still has challenges to overcome, including tackling corruption and improving conditions for companies, where it ranks 147th out of 189 countries on the World Bank's Doing Business survey. While the government has been spending on roads, bridges, water and electricity, an audit of public deals done between 2011 and 2013 showed 95 percent should've been opened to a bidding process. Almost 43 percent of the population lives in poverty, according to the World Bank.
President Ouattara, 72, said last year he'll seek a second term. There's unlikely to be a repeat of post-election violence, according to Simon. In September, former president Henri Konan Bedie asked his supporters to back Ouattara, a former deputy managing director of the IMF.
"Eurobond and offshore equity investors are not particularly worried about the 2015 elections," Samir Gadio, head of African strategy at Standard Chartered in London, said in an e-mailed response to questions Dec. 11 "They see the outcome as a foregone conclusion."
Before it's here, it's on the Bloomberg Terminal.
LEARN MORE