Cuomo Vetoes Bill Letting Pensions Add More to Hedge Funds
Freeman Klopott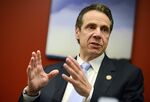 Governor Andrew Cuomo vetoed a bill that would have allowed New York state, city and teachers pension funds to allocate a larger percentage of their investments to hedge funds, private equity and international bonds.
The measure approved by lawmakers in June would have increased the cap on such investments to 30 percent from 25 percent for New York City's five retirement plans, the fund for state and local workers outside the city, and the teachers pension. The funds have combined assets valued at $445 billion.
"The existing statutory limits on the investment of public pension funds are carefully designed to achieve the appropriate balance between promoting growth and limiting risk," Cuomo said in a message attached to the veto. "This bill would undermine that balance by potentially exposing hard-earned pension savings to the increased risk and higher fees frequently associated with the class of investment assets permissible under this bill."
Cuomo, a 57-year-old Democrat, has sentiment similar to that of the California Public Employees' Retirement System, the biggest U.S. pension. The $294 billion fund said in September it was divesting from hedge funds because they're too complex and expensive while contributing too little to returns.
Making Choice
U.S. state and local retirement plans are short at least $1.3 trillion because of investment losses triggered by the recession and insufficient contributions, according to Federal Reserve data. The deficit stresses government finances, forcing officials to choose between contributions to public pensions and investment in infrastructure.
Funds in other states haven't followed California's lead. In June, New Jersey's $77.8 billion pension fund said it had added $1.1 billion to hedge funds since the start of its 2014 fiscal year, to protect against risk after a six-year bull market in stocks.
New York City's five pensions reported a combined 17.5 percent gain on investments for the fiscal year ended June 30, propelled by U.S. stocks. The state fund posted an estimated 13 percent rate of return for the fiscal year ending March 31. The New York State Teachers Retirement System returned 18.2 percent for the year ended June 30.
'Dangerously Close'
A memo attached to the New York bill said raising the allotment for hedge funds and other investments is necessary for flexibility to meet targeted annual returns. A swing in the value of the funds' publicly traded stocks can push the pensions "dangerously close" to the investment cap, the memo said. The change would also better enable the funds' advisers and trustees to "tactically manage the investments to take advantage of market trends, react to market shocks and potentially costly rebalances or unwinds at inopportune times," it said.
The bill was backed by New York City Comptroller Scott Stringer, the custodian of the city's five pension funds, which have assets valued at almost $160 billion.
"We will continue to work with our partners in the legislature and Governor Cuomo to pass this bill," Eric Sumberg, a Stringer spokesman, said in an e-mailed statement.
Matt Sweeney, a spokesman for Comptroller Thomas DiNapoli, the sole trustee of the state's $176.8 billion pension fund, didn't immediately respond to a request for comment.
John Cardillo, a spokesman for the $108 billion teachers retirement fund, declined to comment.
Before it's here, it's on the Bloomberg Terminal.
LEARN MORE