Billionaire Niel to Buy Orange Switzerland for $2.9 Billion
Marie Mawad, Cornelius Rahn and Matthew Campbell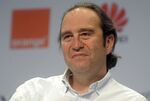 French billionaire Xavier Niel is to buy carrier Orange Switzerland for 2.8 billion Swiss francs ($2.9 billion), as he turns his attention back to Europe after a failed bid for T-Mobile US Inc.
Niel's NJJ Capital, a subsidiary of his private investment fund Kima Ventures, will buy the business from a group of funds advised by Apax Partners, according to a statement.
With a net worth edging close to $8 billion, according to the Bloomberg Billionaires Index -- much of which consists of a controlling stake in French phone company Iliad SA -- Niel is seeking to diversify outside his home country. Iliad has transformed France's telecommunications industry by slashing mobile fees, sparking a price war that has led to firings, restructuring and disposals at rivals such as SFR and Bouygues Telecom.
Niel made an unsuccessful bid earlier this year to acquire T-Mobile US from Deutsche Telekom AG. Orange Switzerland, which bears the Orange brand but was sold by France's Orange SA in 2012 to Apax, has 1.6 million customers.
Swisscom AG, Switzerland's largest phone company, fell 5 percent in Zurich on speculation that Orange under Niel would mimic his aggressive French price cuts in the Alpine country of 8.1 million people.
Sunrise Merger?
Niel could also seek to merge Orange with Sunrise, another Swiss carrier owned by European private-equity firm CVC, to create a serious competitor for Swisscom, according to a person familiar with the matter.
The purchase price values Orange at 7.2 times 2013 earnings, said Christoph Wirtz, an analyst at Bank am Bellevue in Kusnacht, Switzerland.
Still, "Switzerland is a different market than France," he said. "I don't think he will be able to quite replicate the Iliad story over here."
Phone companies in Europe are merging to reduce costs as they move to provide bundles of mobile, broadband and TV services to boost monthly bills and improve customer loyalty.
Asset Hunt
Rival French carriers SFR and Bouygues Telecom as well as Mobistar SA, a Belgian operator controlled by Orange SA, are among the assets Niel has examined in the past two years, people familiar with the matter have said.
Advisers to Apax on the Swiss deal included Credit Suisse, while Niel was advised by banks including Lazard and BNP Paribas. The transaction is expected to be completed by the first quarter of 2015.
Before it's here, it's on the Bloomberg Terminal.
LEARN MORE