Yes, You Actually Are a Turtleneck Person: Eight Turtlenecks for the Non-Believer
by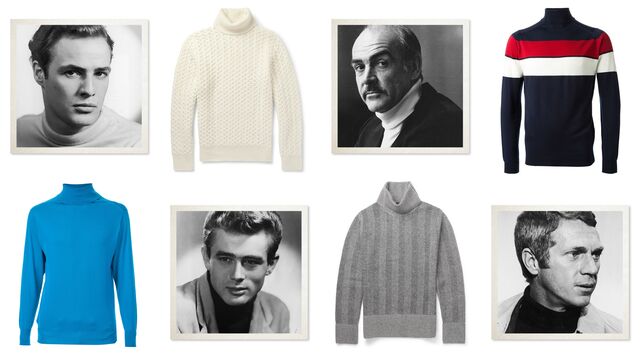 You're terrified of turtlenecks. The very thought of them makes you feel claustrophobic. Clammy. Indelibly uncool. Your mom undoubtedly tugged one over your head one morning before elementary school, where you were then made fun of for resembling, well, a turtle. At least I was. I shied away from these souped-up sweaters for years, preferring instead to pop my collar (remember when that was a thing?) or double-layer polos in some desperate attempt at playing with the cool kids. We all make mistakes.
I came to my senses one fine day -- July 19, 2007, to be exact. It was the night that Mad Men first aired. That was when the world was introduced to Don Draper, and I was introduced to the rakish simplicity of a neutral turtleneck paired with a well-cut blazer -- a silhouette so simple, and yet so damn assured, that it seared itself into my brain. I had just started working at a fashion magazine where the staff liked to each have a "uniform"; that was considered the height of style savvy. And here was exactly what I was looking for: something classic, something bold, and something that I could pull off (well, on) in two seconds if I happened to sleep in that morning. That's the great thing about turtlenecks: they're for style savants like Marlon Brando, Steve McQueen, and Paul Newman, but they're also for us lazy blokes who want maximum results with joyously minimal effort. It's almost unfair how lethargy can be misread as elegance.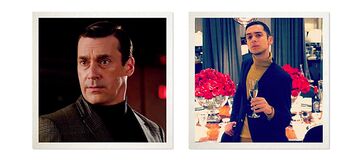 Here's how to pull the wool (or cashmere) over everyone's eyes:

It's all about contrast: Pair a slim-fitting turtleneck with a toothy, textured blazer (or go all-in and layer it under a suit). Throw a nubby, patterned scarf over the whole thing and you'll look like you know what you're doing, but that you don't really care. And that's the whole point.

To roll or not to roll? There's no definitive answer here, but keep in mind that an unrolled neck is probably best reserved for those with a James Dean-level of confidence. If you're having any doubts, fold the neck over once and be done with it. Mock turtlenecks (those that sport about two inches of fabric that doesn't roll over) mostly make people think of priestly robes -- not rebels without a cause. At least, I've never had any luck with them, and neither has anyone else (excluding maybe Brando) that I've seen or stalked on social media. But if you're in a mock mood, by all means, be my guest.

Think thick: Nothing channels New England comfort and style like a thick, cable-knit turtleneck. Throw on a pair of dark denim, some chukka boots, and call it a day.

Mix it up: Don't be afraid of color and pattern. Fire engine red does not just a Christmas sweater make. And color-blocked options don't have to feel like a 80s throwback. The more options you have, the less you have to sweat over tying a tie every morning.

Try a trial run: We suggest you take this new silhouette for a spin this week, which is indeed, all about spinning, thanks to the start of Chanukah.
In fact, in honor of Chanukah, here are Eight Days of Turtlenecks:
The Classic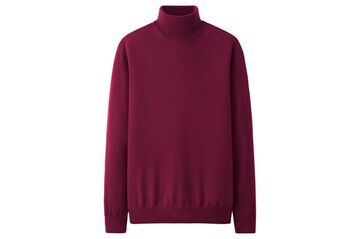 For the novice, try a wine-colored extra-fine merino turtleneck, like this one by Uniqlo. ($29.90, uniqlo.com)
The New Englander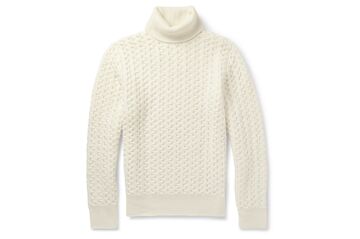 Heft it up with a waffle-knit cashmere turtleneck by Berluti ($1,380, mrporter.com). Style tip: This one is great to wear alone or with a killer piece of outerwear, just too chunky to wear under tailoring.
The Game Changer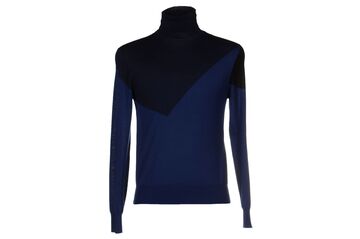 This color block merino wool option by Neil Barrett ($116, yoox.com) is a subtle, modern upgrade to the classic solid.
The Rulebreaker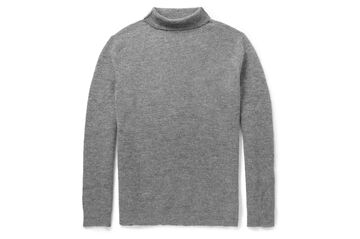 For a splash of different, try something like this knitted alpaca and wool-blend turtleneck (with just enough fold to escape classification as a mock) by Ann Demuelemeester. ($1,010, mrporter.com)
The Good Sport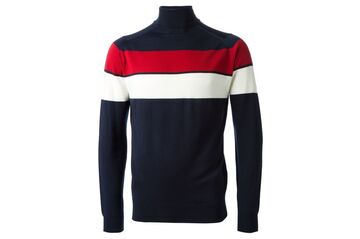 This striped merino turtleneck from John Smedley ($190.40, farfetch.com) is very cabin-in-the-woods chic.
The Risktaker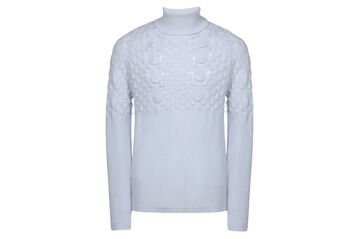 For the more courageous: try something with texture, but in a solid color you're comfortable in, like this winter white embroidered wool and cashmere turtleneck by Emporio Armani. ($375, emporioarmani.com)
The Illusionist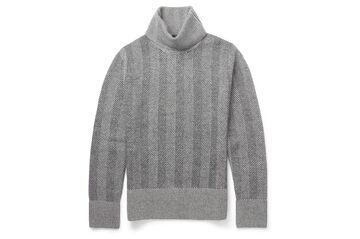 I love the nice monochromatic contrast in this herringbone-knit wool rollneck by Alexander McQueen. ($1395, mrporter.com)
The Brightest of the Bunch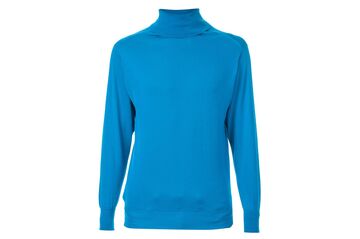 Because a pop of color, like this electric blue cashmere turtleneck from Richard James ($451.91, farfetch.com), is always festive.
Jeremy Allen is the photo editor for Bloomberg Pursuits (and is currently in a mustard yellow turtleneck by Uniqlo). Follow him on Instagram at: @jeremyallen88.
Before it's here, it's on the Bloomberg Terminal.
LEARN MORE