business
Students Getting the Biggest Signing Bonuses Next Year
Hint: They're not creative writing majors
By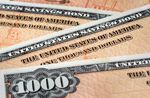 It's a great time to be a college senior—if you picked the right major. More than half of employers in a new survey say they'll be handing out signing bonuses to graduates of the class of 2015. Almost two-thirds of employers say they're only awarding signing bonuses to students who studied certain disciplines.
The students most likely to get signing bonuses—one-time incentives companies dole out to promising new employees—are those who majored in business, engineering, or computer science, according to a National Association of Colleges & Employers survey of 260 employers. Chemical engineers are poised to receive the most generous bonuses ($5,250), trailed by their more general engineering peers ($5,107), computer science majors ($4,364), business majors ($3,958), and accounting majors ($3,682).
Food and beverage manufacturers were most likely to say they'd offer signing bonuses to upcoming graduates. Government gigs were the stingiest, with only 14.3 percent of employers saying they planned to offer signing bonuses next year. (Compare that to construction employers, 50 percent of whom said they'd do the same.)

The good news for everyone is that the percentage of employers planning on offering signing bonuses has generally risen over the last few years. For students graduating in 2010, just 40.8 percent of employers said they would hand out signing bonuses. That number rose to about 45 percent for the Class of 2011 and 2012, about 48 percent for the Class of 2013 and 2014, and reached 51 percent for the Class of 2015.
All the same, humanities majors might be left twitching if they look at the packages promised to their STEM peers. As an English major, I did not receive a signing bonus for my first job (although I did receive a branded company notebook that was probably worth several dollars). Worth noting: The majors that employers were most likely to say they'd give signing bonuses to are the same ones who felt least supported by faculty and least inspired to learn in college, according to a report released last month by Gallup and Purdue University. Perhaps everything balances out in the end. 
Before it's here, it's on the Bloomberg Terminal.
LEARN MORE