The Final Congressional Tally is In
Republicans gained 9 seats in the U.S. Senate and 13 seats in the House of Representatives in the midterm elections.
By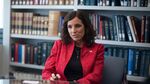 And the winner is ... the GOP! Adding salt to the Democrats' wounds suffered in the bruising 2014 midterm elections, Republican Martha McSally was officially declared the winner in the race for Arizona's 2nd District on Wednesday, the final outstanding congressional contest.