Republicans Rustlin' Up Some Cash With Dick Cheney
The party has already socked away $3 million from Bush-themed footwear.
By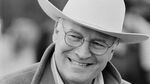 The Republican Party hopes Dick Cheney will do for heads what George H.W. Bush did for feet. Cheney cowboy hats go on sale Wednesday as the latest fashion-forward fundraising gimmick for the Republican National Committee–the same group that brought us colorful, striped socks a la President George H.W. Bush.