Rubio Leads Republican Charge to Block Obama Cuba Policy in 2015
Kathleen Hunter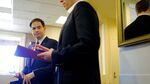 Florida Senator Marco Rubio, who may run for president in 2016, is leading a Republican charge to do everything possible to block President Barack Obama's move to normalize relations with Cuba.
Yet even Rubio says there may be little the Republican-controlled Congress can do.
"I would concede that many of the changes that have been made today, such as diplomatic relations, fall within the purview of the presidency," Rubio told reporters today in Washington.
Rubio, whose parents left Cuba in 1956, said Republican lawmakers will "use every tool at our disposal in the majority to unravel as many of these changes as possible."
Blocking funds for an embassy in Cuba and refusing to confirm an ambassador to the island nation are steps Rubio and others in his party suggested Congress might be able to take.
"We're going to have a very interesting couple of years discussing how you're going to get an ambassador nominated and how you're going to get an embassy funded," said Rubio, who is set to become chairman of a panel that oversees foreign relations in the Western Hemisphere.
The president announced today that the U.S. will open an embassy in Havana and loosen a half-century-old trade and travel embargo. Fully lifting the full trade embargo would require action by Congress, where both chambers will be led by Republicans starting in January.
Diplomatic Presence
White House Press Secretary Josh Earnest told reporters today that congressional appropriations may not be necessary to set up an embassy in Cuba because there's already a "significant" U.S. diplomatic presence there.
Obama's action, a day after Congress adjourned for the year, sets up another fight for early 2015 between the White House and Republican lawmakers as attention begins to turn to the 2016 presidential race. Rubio is among lawmakers considering a presidential run, as are fellow Republican senators Ted Cruz of Texas and Rand Paul of Kentucky.
The expiration of funding for Department of Homeland Security on Feb. 27 could provide an opportunity for Republicans to try to curb Obama's Cuba move. Republicans want to attach language to the measure to block Obama's orders easing deportation for undocumented immigrants in the U.S.
Republicans insisted on short-term funding for the department, which is responsible for immigration, in the $1.1 trillion spending measure the Senate passed Dec. 13 so they can come back to the issue early next year.
'Bad Idea'
South Carolina Republican Lindsey Graham, set to become chairman in January of the Senate Appropriations subcommittee on state and foreign operations, said on Twitter, "I will do all in my power to block the use of funds to open an embassy in Cuba. Normalizing relations with Cuba is bad idea at a bad time."
Congress has in the past used government funding bills to impose Cuba travel bans and to provide funds for efforts to promote democracy there.
House Speaker John Boehner, an Ohio Republican, today said in an e-mailed statement, "Relations with the Castro regime should not be revisited, let alone normalized, until the Cuban people enjoy freedom -– and not one second sooner."
Still, there will be some pressure for lawmakers to go along with the president. Thomas Donohue, president of the U.S. Chamber of Commerce, the nation's largest business lobby, said today that Obama's actions "will go a long way in allowing opportunities for free enterprise to flourish."
'Serious Debate'
Obama, in announcing the new policy toward Cuba at the White House, said, "I look forward to engaging Congress in an honest and serious debate about lifting the embargo." He said he respects the "passion" of those who disagree.
Incoming Senate Foreign Relations Chairman Bob Corker of Tennessee said the committee will examine the implications of the policy changes. He said there isn't yet any "real understanding as to what changes the Cuban government is prepared to make" in exchange for normalizing relations.
Foreign Relations Chairman Robert Menendez, who will pass along the gavel in January, today urged hearings on the matter, and said "it stinks" when asked about not being told about the plans. Menendez, a New Jersey Democrat whose parents fled Cuba during Fidel Castro's reign, said he was disappointed in Obama.
"I think the president's actions have created a challenge for us globally," he said. "There is no equivalence between an international aid worker and convicted spies who were found guilty of conspiracy to commit espionage against the U.S."
'Act Unilaterally'
The Obama administration should seek Congress's approval rather than "act unilaterally" to change U.S. policy on Cuba, Representative Michael McCaul, a Texas Republican who leads the House Homeland Security Committee, said in a statement.
"Once again, with the stroke of a pen, President Obama has upended this longstanding bipartisan policy toward one of the most oppressive regimes on the planet with very little to show in return," McCaul said.
Senator Richard Durbin of Illinois, the chamber's second-ranking Democrat, was one of a group of lawmakers who met American aid worker Alan Gross, released today from a Cuban prison, upon his return to Andrews Air Force Base outside Washington. Durbin hailed Gross's release and cast the normalization of relations as an opportunity to promote democracy in Cuba.
"Opening the door with Cuba for trade, travel and the exchange of ideas will create a force for positive change in Cuba that more than 50 years of our current policy of exclusion could not achieve," Durbin said.
Reluctant Democrats
Other Democrats expressed reluctance to lift the trade embargo, including New York Representative Eliot Engel, the top Democrat on the House Foreign Affairs Committee.
"While the president has the authority to make the changes that were announced today, Congress has the authority to maintain or eliminate the trade embargo on Cuba," Engel said. "I believe that Congress must see a greater political opening in Cuba before lifting the embargo."
Rubio said he'll use his chairmanship of the Senate Foreign Relations subcommittee on the Western Hemisphere to look for "leverage points" to influence policy toward Cuba.
While many of the changes in diplomatic status are being made under the president's authority, Rubio said, "We're going to study very carefully whether any of these measures contradict the spirit or the letter of the law."