New Watch Wednesday: Here Are Highlights From the Upcoming SIHH Expo in Geneva
By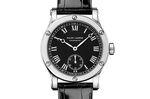 We're just a few weeks away from the annual Salon International de la Haute Horlogerie (SIHH), when 16 of the world's most well-known watch brands will come together in Geneva to tell us what will be gracing our wrists in 2015. A few watches have been previewed this week and we have an early look at the handful most worth your attention.
Montblanc Heritage Spirit Orbis Terrarum

Ok, the name might make it sound like a 7th grade science fair project, but this watch is no joke. It's a true worldtimer, showing the time in 24 global cities at once. It clearly takes some stylistic cues from the worldtimers of sister-brand Vacheron Constantin, but that's definitely not a bad thing. The slightly-cartoony continents on the rotating map change from light to dark as an integrated day/night indicator and both the cities and hours rings are bold and legible.
This is another play by Montblanc to make serious complications more accessible and more widely appreciated. The svelte 41mm case and combination blue and white dial make the watch stylistically approachable and in stainless steel the watch will retail for just 4,990€ ($6,240). The red gold version will command a slightly higher 13,900€ ($17,390), though this is still less than half the price of a worldtimer from other comparable watchmakers.
Available early 2015, Price: 4,990€/$6,240 (stainless steel on leather), 5,250€/$6,565 (stainless steel on steel bracelet), and 13,900€/$17,390 (red gold on leather)
IWC Portofino Hand-Wound Pure Classic


A few months ago IWC introduced the Portofino Midsize, a smaller, diamond-studded version of the brand's most low-key offering. Now we get a bigger Portofino in the Hand-Wound Pure Classic. The watch couldn't be any more straight forward. There are two hands, two Roman numerals, stick markers for the hours, and a printed minutes track at the very edge of the dial. The caliber 59060 movement is in-house and manually wound, with a whopping 8-days (192 hours) of power reserve.
In theory this watch is a real winner for IWC. It's understated, in-house, and a logical evolution of an existing family of watches. But then there's the size. At 43.5mm, this watch is way too big to be considered a dress watch by any standard. Even Andre the Giant would balk at the idea (though we're not too sure how often he wore a suit and tie).
Available January 2015, Price: $10,400 (stainless steel) and $19,900 (red gold)
Baume & Mercier Clifton Big Date and Power Reserve


This SIHH marks the third installment of new releases for the Clifton collection. Vintage watch lovers were clamoring when the first watches were shown in late 2012, admiring the clean 1950s design sensibility, the modest case sizes, and the reasonable pricing.
While we've seen a solid gold tourbillon and a few 43mm models added to the line-up since, every Clifton watch has remained faithful to the original aesthetic. Here we get the first Clifton with a big date and it's a very clean and low-key version of the complication. There's nothing revolutionary about the watch, but this is clearly a timepiece meant to be worn and enjoyed, not to shock and surprise. Sometimes you just need a good watch.
Available Spring 2015, Price: Not yet set
Ralph Lauren Sporting Classic Chronometer 39mm


Strictly speaking, this isn't a new watch. It's an old watch in a new size. The Sporting Classic Chronometer was introduced at SIHH 2014 and is an absolute beast at 45mm across. Even though it's the size of a tire for one of Mr. Lauren's vintage Bugattis, it's a handsome watch. The screw detailing carries through from the polished steel bezel to the outsides of the lugs, the black dial is richly finished, and the slim Breguet hands add some class.
This new version of the watch is identical in all respects (right down to the COSC-certified RL366 movement inside) except it's a smaller 39mm. To get right down to it, the watch should have been this size from the beginning. It's big enough to wear with that worn-in t shirt on your family's secluded ranch (you do have one, don't you?) but small enough that it looks grown up with a pinstripe suit in the city. The price is a bit steep compared to other quality chronometers out there, but those don't say "Ralph Lauren" on the dial.
Available now, Price: $4,000 (stainless steel)
Before it's here, it's on the Bloomberg Terminal.
LEARN MORE