pursuits
Liam Neeson Wants to Endorse You on LinkedIn
By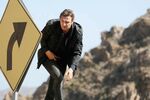 If Facebook is where you upload vacation photos and Twitter is where you complain about TV, LinkedIn is where you clean up your act, try to appear responsible, and hopefully get a job. The digital resumé network has more than 310 million users worldwide and serves as a go-to hiring and networking tool for the white collar world. So why in the world would you want Liam Neeson's Taken movie series character to record a video endorsing your skills on LinkedIn?
From now until Dec. 23, LinkedIn members can enter a Twentieth Century Fox contest that will score the winner "a custom video including Liam Neeson that includes elements of the Grand Prize winner's LinkedIn profile information and the user's skills as listed in their LinkedIn Skills section," according to the contest's rules. Neeson, in character as former CIA operative-turned-vigilante Bryan Mills, will talk about the values of, say, statistical data analysis, food preparation, or intravenous therapy, which are some of the most commonly listed LinkedIn skills.
The contest is a promotion for Neeson's upcoming movie Taken 3, which in this installment finds his character becoming a fugitive after he's wrongly suspected of his wife's murder. (That's also the plot of 1993′s The Fugitive, itself taken from a long-running TV show.) It's also one of a series of promotional stunts LinkedIn has pulled recently, like giving Barbie her own account page and joining with Lee Daniels' The Butler to give contest winners access to a career coach and recruiter. While LinkedIn's membership has grown in recent years, especially overseas, the company has struggled with declining page views—which may mean that potential employers aren't searching the site for job candidates as often as they used to.
Still, the slump came before Liam Neeson praised the necessity of office administrative work and time management.
Before it's here, it's on the Bloomberg Terminal.
LEARN MORE