Johns Hopkins Just Accidentally Accepted Almost 300 People. Why Do Colleges Keep Doing This?
"These colleges are ranked the top in the country, and it's surprising to me that they can't send out a simple e-mail"
by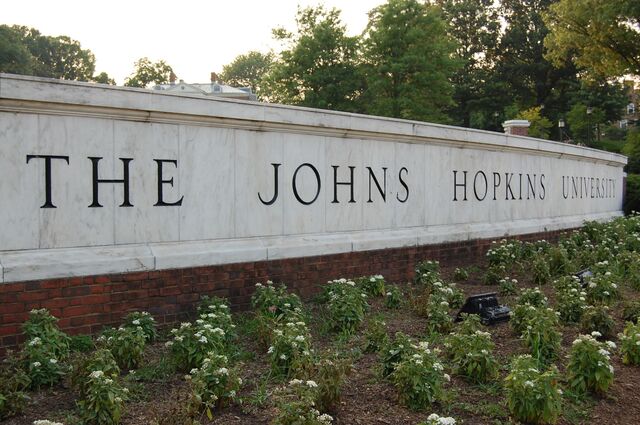 Nearly 300 students who were rejected by Johns Hopkins University last Friday were stunned to receive a chipper e-mail days later with the subject line, "Embrace the YES!" 
The 294 rejected applicants were presumably still working on embracing the "No" when they received a congratulatory e-mail from the school on Sunday, Dec. 14. Johns Hopkins spokesman Dennis O'Shea confirmed in an e-mail that the notes were sent in error. The rejected-then-fake-accepted students, whom the e-mail called the "newest members of the family," were urged to take their celebrations to Facebook, Twitter, and Instagram and were congratulated for being "among the first with the right to use #JHU2019." They could also join an exclusive Facebook group for admitted students to begin fraternizing with fellow members of the Class of 2019.
Within hours, the school realized it had goofed and e-mailed students to apologize, blaming a "technical mistake." For most, the pain and confusion had already set in. 
"I'd been wanting to go to Johns Hopkins since the beginning of high school," says Elmer Rajah, a senior from Randolph, N.J. "I was really bummed out."
You'd think colleges would be extra careful to get this right. (As Rajah said to me: "These colleges are ranked the top in the country, and it's surprising to me that they can't send out a simple e-mail.") But MIT, Fordham, UCLA, and others have burned applicants in recent years with false acceptance letters. This is happening more, in part because more colleges are ditching thick paper envelopes and relying on e-mail to communicate with both applicants and accepted students. It takes only one misplaced click of the mouse to break applicants' hearts.
Sometimes, as in MIT's case, false acceptances happen while schools tackle such mundane tasks as cleaning up e-mail lists. As MIT admissions counselor Chris Peterson recalled in a blog post explaining the mistake, the school didn't realize that combining two e-mail lists, one for admitted students and another for prospective students, would result in all e-mails brandishing the footer, "You are on this list because you are admitted to MIT." Other times, as was the case for Fordham University, someone outside the school messes up. When Fordham accidentally sent acceptance letters to about 2,500 applicants last December, it pointed fingers at Student Aid Services, the contractor it had hired to e-mail applicants, who in turn gave the explanation that the mistake "occurred when data was transferred from a staging environment to our development environment." 
Johns Hopkins, like many other schools that have mistakenly sent e-mails to applicants in the past, said in a statement that its faulty messages were caused by "human error at a vendor working for our undergraduate admissions office."
"We very much regret having added to the disappointment felt by a group of very capable and hardworking students, especially ones who were so committed to the idea of attending Johns Hopkins that they applied [for] early decision," O'Shea said in an e-mail to Bloomberg Businessweek. 
When the school's admissions team caught its mistake on Sunday afternoon, it sent a somber message to applicants with the subject line, "Apology for Email Error." 
"Earlier today, you may have received an email from us with the subject line: Embrace the YES! Please note that this email was sent in error," the e-mail said. Applicants could rest assured that they could check out their accurate admissions decision on Johns Hopkins' website, the e-mail said. 
O'Shea, calling what happened "an unacceptable error," said the school is "working to ensure that future communications are accurate and correctly distributed."
Thanks to the e-mail gaffe, Johns Hopkins's attempt to stir up excitement over early acceptances on social media seems to have backfired. The hash tag #JHU2019 has now largely been overrun by bitter applicants and head-shaking onlookers.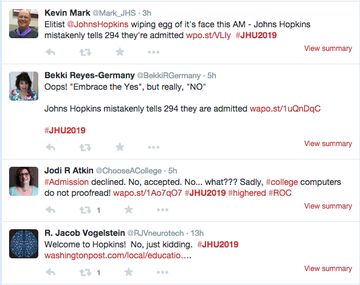 Before it's here, it's on the Bloomberg Terminal.
LEARN MORE