Cruz Apologizes to Senate Republicans for Ruining Their Weekend
Kathleen Hunter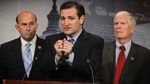 Ted Cruz apologized to fellow Republican U.S. senators today for disrupting their travel plans with a late-night maneuver that forced the chamber into a rare Saturday session, said a spokeswoman for the Texas lawmaker.
"The senator acknowledged that a number of his colleagues had to unexpectedly change their weekend plans, and he apologized to them for inconveniencing their personal schedules," Cruz spokeswoman Catherine Frazier said in an e-mail today. "That was not his intention."
Late on Dec. 12, Cruz objected to a plan to break for the weekend and return Dec. 15 to vote on a $1.1 trillion spending bill to fund government operations. The move, which blindsided Minority Leader Mitch McConnell after he'd already left the Capitol for the night, forced the Senate to remain in session for more than 10 hours on Dec. 13.
Cruz and fellow Republican Mike Lee of Utah had vowed to use all possible procedural tactics to add language to the spending measure blocking implementation of President Barack Obama's immigration order.
The president said Nov. 20 that he would temporarily halt deportations for undocumented immigrants in the U.S., a move that Cruz and other Republicans describe as amnesty.
Cruz raised a constitutional objection to the immigration order on Dec. 13 that got the support of 22 Republicans, and Fraizer said the potential 2016 presidential aspirant stands by the substance of his efforts.
'Critically Important'
"His intention was to secure a vote on President Obama's illegal executive amnesty, and to use every procedural means to do so," she said. "He believed and still believes that forcing that constitutional vote was critically important, but he apologized for causing any personal hardship."
Cruz drew public criticism from Republican lawmakers for the tactic, although several declined to comment when asked about his apology at today's Republican lunch meeting.
The move meant that many senators had to make a quick trip back to Washington. Senator Joe Manchin, a West Virginia Democrat, said he was arriving in Pittsburgh to celebrate Christmas with his grandchildren when he got the call to return.
Senator Jeanne Shaheen, a New Hampshire Democrat, had just landed in Manchester before returning to Washington on the next flight.