Coke, Travel Companies Stand to Benefit From Opening Cuba
Matt Townsend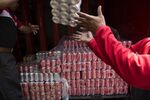 Coca-Cola Co. sells its beverages in all but two countries -- North Korea and Cuba. The list might soon shrink to one.
President Barack Obama moved today to end the isolation of Cuba, proposing to remove trade and travel restrictions that have lasted more than 50 years. The policy change could benefit a raft of companies.
Obama would let U.S. businesses export goods such as building materials, farming equipment and communications infrastructure on the island. The loosening of travel restrictions could aid the cruise and airline industries. U.S. financial institutions will be allowed to open accounts with Cuban banks. The unexpected thaw could mean new business for companies as varied as Carnival Corp., Nike Inc. and Wal-Mart Stores Inc.
Normalizing relations with the island nation about 90 miles (145 kilometers) from Florida would open a market of about 11 million people -- about the same size as a U.S. state like Ohio -- that have been longing for U.S. products for decades, according to John Kavulich, a senior policy adviser at the U.S.- Cuba Trade and Economic Council.
"What's attracted U.S. companies from before the revolution, through the revolution to today is there's an incredibly high awareness for U.S. brand names," Kavulich said in an interview. That means the cost of entering the market would be lower because not as much marketing is needed, he said.
The steps Obama laid out would loosen an embargo that had been one of the most durable elements of U.S. foreign policy.
Orbitz CEO
Orbitz Worldwide Inc., a longtime critic of the embargo, applauded Obama's moves on Cuba, saying it would hopefully pave the way for travel between the two countries.
"There are numerous economic, social and cultural benefits that will flow from free and open access and our customers are eager to visit Cuba," said Barney Harford, CEO of Orbitz.
Any excitement over the potential for Cuba to become an outpost for global brands like Nike, McDonald's Corp. or Wal-Mart has to be tempered. It's a poor country and its people don't have enough access to credit to spend a lot on discretionary goods. The government in Havana, the nation's capital, also has been known to make moves toward opening up to foreign firms, only to pull back.
Inefficient Economy
"The only thing that works in Cuba at the moment is the black market," said Jorge Salazar-Carrillo, professor of economics at Florida International University in Miami. "It's the most inefficient economy in the world, with the exception of North Korea."
The World Bank, citing 2011 data, pegs the island's gross domestic product at more than $68 billion -- about what the U.S. produced that year in a day and a half, according to data compiled by Bloomberg.
Cuba's GDP is expected to increase 1.2 percent this year, according to the Economist Intelligence Unit, which compiles data on Cuba. That growth should accelerate to 4 percent over the next few years, even without more trade with the U.S., the researcher said.
While Cuba has some of the best trained workers in Latin America, foreign companies will have to overcome a lack of infrastructure and corruption, said Irene Mia, EIU's director for Latin America and the Caribbean.
'Appropriate Time'
"No one should be holding their breath for the Havana-Mac," Kavulich said. "Or investing in McDonald's today in anticipation of the Havana-Mac."
Coca-Cola would consider re-entering the market "at the appropriate time and in accordance with the relevant laws and regulations governing U.S. relations with Cuba," Ann Moore, a spokeswoman for Coke, said in an e-mail.
PepsiCo Inc., which does business in more than 200 countries and territories, looks forward "to adding Cuba contingent on business relations becoming normalized," said spokesman Jay Cooney in an email.
Obama's plan boosted the shares of some companies that may benefit from the opening of Cuba. Herzfeld Caribbean Basin Fund, a closed-end mutual fund that aims to profit from a resumption of trade between the U.S. and Cuba. Herzfeld, which overseas $45 million, jumped as much as 47 percent. Its top holdings are airline Copa Holdings SA and Coca-Cola Femsa SAB, the world's largest Coke bottler.
Luring Investment
Even before Obama's announcement, Cuba had been pushing to attract more foreign investment. The government issued a report in November targeting the energy, agriculture and tourism industries. The plans include more than 20 new hotels, golf courses and condos as well as partners in oil drilling and making aluminum cans for beer and soda.
Cruise operators have eyed Cuba for years in the hope that normalized relations would allow for greater travel to the country. Many have already developed plans in anticipation of loosened travel restrictions, said Matthew Jacob, a cruise industry analyst with ITG Investment Research.
While limited infrastructure reduces the near-term potential for port calls, the prospect of vacationing in a little-seen destination could appeal to travelers and help jump-start previously weak demand for Caribbean cruises, he said.
"Given the novelty of it, Cuba makes for a compelling destination for cruise itineraries," Jacob said. "This is a unique situation in that here is an island that people used to visit but has been basically closed off to U.S. visitors for the last 50 years."
Cuba Cars
Cuba may also be ripe for automakers because many of the cars in use are decades old.
"Anyone who has been to Cuba can attest that in terms of cars, time stood still," Michelle Krebs, an analyst at researcher AutoTrader.com said in an e-mail. "Beat-up classics from the 50s and 60s are on the streets. But Cubans can't afford today's cars until their economy is revived. This is a first small step."
There's also plenty of room for telecoms such as AT&T Inc. to expand. Only about 5 percent of people in Cuba have access to the Web, one of the lowest rates in the world.
"It's a virgin market in relation to everything that has to do with telecoms," said Jose Otero, director of Latin America and the Caribbean for 4G Americas, a telecommunications trade organization. "It could be interesting to any U.S. operator."
Before it's here, it's on the Bloomberg Terminal.
LEARN MORE