China Is the World's Top Exporter of Dirty Money
By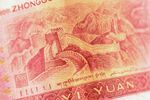 China's push to invest big bucks abroad has been heating up, following a record $108 billion of direct investment overseas last year. Just this week, premier Li Keqiang signed $14 billion of deals in Kazakhstan on Sunday and announced a $3 billion investment fund into Eastern and Central Europe on Wednesday. In November, president Xi Jinping said that China plans to invest $1.25 trillion overseas over the next decade.
There's also a less-savory variety of capital leaving China in larger sums than ever. According to a report from Washington-based Global Financial Integrity, China's illicit outflows (capital leaving the country illegally) hit $249.57 billion in 2012, the last year of available data. That figure is larger than anywhere else in the developing world, according to the report (PDF), which tracks illicit outflows from 2003 to 2012. During that period, China led in the unsanctioned outflows in every year but one, 2011, when Russia surpassed it. The cumulative loss from China over those 10 years totaled $1.25 trillion.
Second to China in illegal outflows, both in 2012 and cumulatively over the 10 years was Russia, with $122.86 billion and $973.86 billion, respectively. For aggregate losses from 2003 through 2012, Mexico came in third, followed by India, Malaysia, Brazil, Indonesia, Thailand, Nigeria, and  South Africa.
All the emerging economies combined lost $991.2 billion in illicit outflows in 2012, the highest amount recorded in the last 10 years, and they lost a total of $6.6 trillion over the decade. False trade invoicing was the most common method of spiriting money across borders, accounting for 77.8 percent of the total, the report estimates.
Illustrating how serious the problem has become, the total unapproved outflow of capital from developing countries in 2012 was larger than foreign direct investment and official development aid combined. "If the problem of illicit financial flows is allowed to grow unchecked, development aid will continue to fight an uphill battle," the report says. "Unrecorded capital outflows from the developing world are immense, generating severe consequences for poverty alleviation and economic growth."
Before it's here, it's on the Bloomberg Terminal.
LEARN MORE