For These Companies, Cheap Oil Pales Next to Sweet Surchages
The sharp drop in fuel prices may threaten what has become a profit center for many airlines and shippers: the fuel surcharge
By and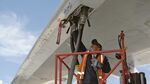 The collapse of crude oil prices has been glorious news for major fuel buyers such as airlines, truckers, and shippers. The sharp decline, however, threatens a potentially lucrative source of income for many of those same buyers: the fuel surcharge.
As holiday shipping enters its final furious push, FedEx said Wednesday, Dec 17,  that its revenue per package declined 2 percent in the most recent quarter as its sliding scale of surcharges adjusted to the new environment. The cheaper the fuel, the lower the surcharge. "The year-over-year reduction in fuel surcharge revenue largely offset the benefit of the lower fuel prices," Alan Graf Jr., FedEx's chief financial officer, told analysts. If jet fuel drops below $1.94 per gallon—right around the current spot price for U.S. Gulf Coast kerosene—FedEx's air surcharge disappears entirely, according to its surcharge schedule. FedEx currently has a 6 percent surcharge for both air and ground shipments. The company says there is a lag of up to two months between swings in fuel prices and changes to its surcharge schedule. The next update is expected Feb. 2.
On Dec. 29, rival UPS plans to lower its current surcharge, 8 percent, for air and international packages to 7 percent. The 6.5 percent surcharge for ground shipments will not change. UPS says it reviews the surcharge rates monthly.
The stunning decline in jet fuel this fall has mirrored the drops in crude oil futures, following lower global demand and OPEC's decision to keep production steady. Brent crude, the commodity most closely aligned with jet fuel prices, rebounded above $62 per barrel on Wednesday, a day after settling at its lowest price since May 2009. 

Fuel surcharges are assessed not only on freight. Passengers on international flights pay them, too—and it's much trickier to ascertain how much the airline charges for the actual fuel surcharge, which is typically included in a general carrier fee. For example, nonstop flights sold by American and Delta Air Lines from Los Angeles to London in January carry $458 in "carrier-imposed" fees and fuel surcharges. (Delta's surcharges can run as much as $650 each way.) A recent Quartz article described fuel surcharges as "arbitrary numbers that the industry adjusts to maximize their profits while staying competitive with other carriers."
If jet fuel prices keep dropping—and fuel surcharges don't follow suit in any meaningful manner—it is possible that U.S. regulators could intervene. In a February 2012 regulatory clarification, the Department of Transportation said that airlines' fuel surcharges "must be an accurate reflection of the fuel cost over some reasonable baseline for an individual passenger for that trip."
Airlines argue that volatility—not expensive fuel—is the real enemy of their enterprises and that there's no reason to believe the current environment is any long-term indicator of their biggest cost. Last week, for example, Delta told investors that it uses high fuel prices as the basis of its long-term planning to chart a conservative course, given oil's spikes in recent history. Moreover, despite the financial benefits derived from cheaper fuel, the sharp declines have cost millions of dollars for carriers such as Delta and Southwest, which acquired some of their future jet fuel needs by hedging contracts at prices above the current level.
Regardless of crude oil's many swings, the fuel surcharge is a profit center that both package shippers and travelers may soon target with growing ire.