Cheap Oil Jamming Rails Means Higher U.S. Power Bills: Freight
Mario Parker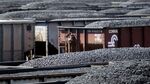 U.S. electricity costs are poised to reach the highest level since 1999 because railroads are too clogged to deliver enough coal to power plants.
While the U.S. has the world's biggest coal reserves, utilities are forecast by the government to end the year with the lowest stockpiles since 2005. With carriers including BNSF Railway jammed with record shipments of oil and grains, Xcel Energy Inc. and other power producers say they can't get the coal they need.
The rail delays mean utilities haven't rebuilt inventories that fell to a seven-year low last winter. Power producers filed 10 notices this year warning regulators that stocks were low enough to threaten generation, compared with two filings in 2013. Utilities have been obliged to rely more on natural gas, increasing costs for consumers.
"There's plenty of coal," Jim Thompson, a director of coal for IHS, an Englewood, Colorado-based energy and industrial analytics company, said by phone Dec. 2. "The problem is the coal transportation system."
Utilities got as much as 25 million short tons (22.7 million metric tons) less coal than they needed from mines in Wyoming's Powder River Basin this year, Peabody Energy Corp., the biggest U.S. producer of the fuel, said in October. Utilities will burn 868.5 million tons in 2014, generating 39 percent of U.S. electricity.
Low Inventories
Power companies are on pace to end the year with 129.2 million tons of inventories, 32 percent less than the record 189.5 million tons reached in 2009, U.S. Energy Information Administration data show.
Utilities have used natural gas to preserve coal stocks, even though it's 22 percent more profitable for a power plant in the Midwest to burn coal, data compiled by Bloomberg show.
Average U.S. power costs will rise 1.8 percent to $12.69 per megawatt hour in 2015, the most expensive in records going back to 1999, the EIA said in a report Dec. 9.
The shale oil boom has also sent wages for welders and pipefitters in Louisiana above $100 per hour, causing cost overruns for chemical projects.
The strengthening economy, record shipments from the shale-oil boom and expanding grain crops have overwhelmed the rail network, said Lee Klaskow, an analyst at Bloomberg Intelligence in Princeton, New Jersey.
West Texas Intermediate oil has slumped 45 percent this year as U.S. production has risen to the highest in more than three decades. The U.S. benchmark slid $2.36 today to settle at $54.11 a barrel on the New York Mercantile Exchange.
Unplugging Bottlenecks
Average rail speeds plunged 6.4 percent in the past year while dwell times, a measure of how long cars sit in a rail yard, increased 8.7 percent, data compiled by Bloomberg show.
BNSF, owned by Berkshire Hathaway Inc., had the biggest increase in commodity carload traffic this year, with a gain of more than 22 percent, Bloomberg Intelligence data show. The company has boosted personnel, added tracks and locomotives and sought to unplug bottlenecks, George Duggan, group vice president for coal business, said at a conference Dec. 9.
U.S. coal imports increased 37 percent to 12.2 million tons this year, led by purchases from Colombia, EIA data show.
"The transportation constraints gave utilities a need to diversify supply," Ted O'Brien, chief executive officer of Doyle Trading Consultants, a Grand Junction, Colorado-based coal analysis company, said by phone Dec. 11. That's made foreign coal more competitive than U.S.-mined fuel, he said.
The Tennessee Valley Authority has cut generation this year to preserve coal stocks, Ben Jones, the company's manager of coal origination, said at a conference in New York this month.
Winter Stockpiles
"Our main concern has been -- can we get the coal we've bought into our system," he said. "We started trucking coal to the plants."
Xcel Energy's stockpiles are "significantly low," Craig Romer, the Minneapolis-based company's director of fuel supply operations, said by phone Oct. 28.
"Normally in the fall we try to build up those inventories in anticipation of weather events," he said. "Right now, we're just not getting the service to build those winter stockpiles.'
Utilities may be forced to navigate low inventories through next year and this ''could create challenges in the summer of 2015," Alan Haymes, an economist at the Federal Energy Regulatory Commission, said at the agency's monthly meeting in Washington today.
Powder River
Powder River Basin coal prices increased 5 percent to $12.65 a ton in the past year. They would be even higher if utilities had confidence it could be delivered, according to IHS's Thompson.
"Some railroads are now saying it will probably be 2016 before we get a full resolution to the problem," Emily Medine, a principal at Energy Ventures Analysis, an Arlington, Virginia-based energy consultant, said Dec. 9 in New York. "There is pent-up demand. A price spike in PRB could happen depending on the performance of the railroads."
Before it's here, it's on the Bloomberg Terminal.
LEARN MORE