Caesars Receivership Case on Fast Track While Talks Continue
Steven Church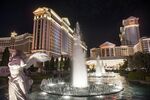 Caesars Entertainment Corp., the casino operator struggling to restructure $18.4 billion of debt, must face trial sooner than usual on whether a receiver should take control of its main operating unit, a Delaware judge said.
The trial still won't come before a mid-January hearing on a request by Caesars to dismiss a creditor group's lawsuit or move it and a related case to a court in New York, Chancery Judge Sam Glasscock said today. That would be around the time Caesars has considered putting its operating unit into bankruptcy, which would automatically halt the lawsuit.
As the legal maneuvers proceed in Delaware, the company and its senior creditors are negotiating how to reshape Caesars Entertainment Operating Co. into separate entities, one to own property and one to manage casinos and hotels. Those talks have contemplated putting the operating company into Chapter 11 on Jan. 15, according to documents released by one creditor group that had been involved in the discussions.
Glasscock acknowledged the possibility that the legal actions before him may have an impact on the talks and said he would take that into account should a trial on the receiver take place.
'Complex Negotiations'
"I am sensitive to allegations that putting a receiver in place given the complex negotiations" may not be in the best interest of the company, Glasscock told attorneys during a phone hearing this morning.
Under federal law, existing and future lawsuits can't move forward against a debtor while a bankruptcy is active without permission from the bankruptcy judge.
In the two Delaware lawsuits, creditors claim Caesars' aimed to strip the operating unit of its most valuable assets.
Caesars claims that Paul Singer's Elliott Management Corp. and its affiliates are behind at least one of the two cases. Elliott is using the push for a receiver to improve its negotiating position and to profit on credit default swaps, a kind of insurance, tied to the casino company's debt, Caesars said in court papers.
The receiver suit was filed by UMB Bank as the trustee for investors that hold senior notes issued by the operating unit. At today's hearing, UMB had asked Glasscock to approve a quicker-than-normal process for deciding if a receiver is necessary.
Elliott's alleged involvement is "absolutely irrelevant" to the receiver lawsuit because the case is intended to benefit all holders of the debt, said Sascha Rand of Quinn Emanuel Urquhart & Sullivan LLP, an attorney for UMB.
Directors Assailed
Both junior and senior creditors have assailed Caesars' directors, including David Bonderman, co-founder of buyout firm TPG Capital, and Apollo Global Management LLC's Marc Rowan.
TPG and Apollo took Caesars private in a $30 billion leveraged buyout in 2008 that loaded the gambling company with more debt than it can handle. Since then, the new owners have stripped Caesars Entertainment Operating Co. of its most valuable assets, according to some creditors.
At the hearing today, Philippe Adler of Friedman Kaplan Seiler & Adelman LLP, an attorney for Caesars, denied the allegations in the lawsuits, saying any asset transfers were legal and publicly announced through regulatory filings.
Caesars 10 percent bonds due in 2018, issued by the operating company, fell more than 4 percent after the hearing to 16.5 cents on the dollar, according to Trace, the bond price reporting system of the Financial Industry Regulatory Authority. The bond closed down 1.45 percent at 17 cents on the dollar.
The case is UMB Bank v. Caesars Entertainment Corp., CA NO. 10393, Delaware Chancery Court (Wilmington).
Before it's here, it's on the Bloomberg Terminal.
LEARN MORE