BlackBerry Tries to Win Back Die-Hards With 'Classic'
Gerrit De Vynck and Kelly Gilblom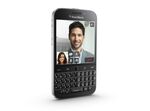 BlackBerry Ltd. is going back to its roots with a keyboard-equipped phone that looks like the original "crackberrys" that made the Canadian smartphone maker a household name.
The Classic smartphone, which features a qwerty keyboard, trackpad and call and hang-up buttons nestled below a touch screen, was debuted today by Chief Executive Officer John Chen at an event in New York. It restores features largely abandoned on BlackBerry devices last year with the introduction of a new operating system.
"When I went to visit customers -- and these are the CEOs of top banks in this town -- a lot of them pulled out their BlackBerrys," Chen said at the event. Chen said one financial executive told him: "Don't mess around with this thing."
The Classic brings the company full circle after Thorsten Heins, the previous CEO, shifted from keyboards to phones exclusively with touch screens, alienating die-hard business users. BlackBerry's share of the global smartphone market fell to less than 1 percent as users flocked to iPhones and products running Google Inc.'s Android software.
Loyal Users
"I can't stand the touchscreen," said Jennifer Richardson, who works as a TV news producer in Phoenix and has used a BlackBerry for at least six years. She tried a touch-screen BlackBerry but returned it the same day because she missed the top row of navigation keys. Richardson, 39, said she's keen to get her hands on the Classic, despite jokes from friends that she's the last remaining customer.
"I get about 400 e-mails a day, so it's faster to type with the keyboard," she said.
Richardson is one of many BlackBerry fans -- including President Barack Obama and Kim Kardashian -- who stuck with the company even as investors jumped ship. BlackBerry closed at $9.51 yesterday, down 94 percent from its high of $147.55 in 2008. This year, as Chen put a strategy in place to shore up the balance sheet and staunch losses, the shares have gained 28 percent through yesterday.
Today, the shares rose 2.8 percent to $9.78 at 11:56 a.m. in New York.
Classic Price
BlackBerry is selling the Classic for $449 in the U.S. and C$499 ($429) in Canada.
Verizon Communications Inc. and AT&T Inc. will carry the phone in the U.S., and Rogers Communications Inc., Telus Corp. and BCE Inc. will have it in Canada. BlackBerry said in an e-mailed statement that it's working with carriers around the world to bring the phone to more countries.
Chen teased the Classic smartphone introduction in an October blog post addressed to BlackBerry's current and former customers.
"It's tempting in a rapidly changing, rapidly growing mobile market to change for the sake of change – to mimic what's trendy," Chen said in the post. "But there's also something to be said for the classic adage, if it ain't broke don't fix it."
Business Customers
He has stressed BlackBerry isn't trying to win regular consumers, at least not yet. The Classic is for heavy-duty business users who need to hammer out dozens of e-mails a day.
The company also announced a suite of new business-focused apps and a distribution agreement with information technology reseller Ingram Micro Inc.
BlackBerry released another keyboard-equipped device in September, the square-screened Passport. That device was meant to "break the mold," while the Classic is for users who are still using old BlackBerry Bold phones, Chen said in the October blog post.
Pre-orders for the Classic in some regions temporarily sold out on BlackBerry's online store last week. Kevin Goodchild, who works in the enrollment department of Ryerson University in Toronto, plans to get one as soon as he can.
Touchscreen, Keyboard
"The touchscreen, the keyboard, all of those things are what will bring people back," said Goodchild, 37. "To see it's already sold out of pre-orders, it's making me nervous."
Even with the new set of phones, Chen has de-emphasized devices in his overall strategy, saying the company's future is as a software provider that helps governments and corporations manage and secure smartphones regardless of their manufacturer. Last month, BlackBerry announced a partnership with rival Samsung Electronics Co. to collaborate on mobile-device management.
Investors will get a chance to see how both parts of the company have been performing when BlackBerry reports its fiscal third-quarter earnings on Dec. 19.
Before it's here, it's on the Bloomberg Terminal.
LEARN MORE