Baidu to Buy Uber Stake in Challenge to Alibaba in China
Bloomberg News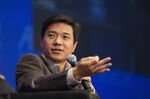 Baidu Inc. agreed to invest in Uber Technologies Inc. to expand competition with Alibaba Group Holding Ltd. in China's car-booking market.
Baidu will connect its map and mobile-search features with Uber's service, the two companies said in a statement today. The companies didn't specify the value or size of the stake Baidu will take in San Francisco-based Uber.
Baidu's billionaire founder Robin Li is adding functions to help users of China's biggest Internet search engine find shops and services on their smartphones and tablet computers. The market for car-booking services in China has been dominated by startups backed by Alibaba and Tencent Holdings Ltd., the nation's biggest Internet companies.
"The car hailing industry is still in the early stage of development. It's a huge market and has a lot of potential," Li said at a press conference today in Beijing. "A lot of startups, and big companies like Baidu, Alibaba and Tencent all want to achieve something in this industry."
Partnering with Baidu may help Uber avoid some of the regulatory and legal hurdles that have challenged the application in markets around the world. New Delhi banned the car-booking company after one of its drivers was accused of raping a passenger. There is also a ban in Spain, while Rio de Janeiro declared the service illegal and the Netherlands halted its ride-sharing service.
Latest Funding
Uber is working "pretty well" in China today and doesn't have any pressing regulatory issues in the nation, Travis Kalanick, Uber's CEO and co-founder, said at the conference with Li.
Uber this month completed a round of funding that valued the company at $40 billion. The company has raised $2.5 billion since its inception in 2009.
Baidu's investment in Uber may be worth as much as $600 million, China National Radio reported last week citing its own calculation for the investment amount. Li today declined to comment on the value of the stake.
"The goal of this agreement is not for the sake of investment alone, it is more for strategic cooperation and commercial cooperation," Li said. "Some people think that for investments, Baidu only goes for the full acquisition or taking a controlling share and that Baidu would not take a minority investment. This is a misunderstanding."
Baidu's mobile search service has more than 500 million monthly active users, while its Baidu Map service has 240 million, it said today.
Accelerating Growth
Uber said in July it would expand in China and hire in 14 cities. The service currently operates in nine Chinese cities, according to today's statement.
"Today we are taking our commitment to the Chinese transportation market to a whole new level and this strategic partnership is a big part of that," Kalanick said at the conference. "Each new city that we are launching is growing faster than the one before it and far faster than the cities we are in globally."
Hangzhou Kuaidi Technology Co., a taxi-booking service backed by Alibaba, in July said it was adding luxury cars in China to boost revenue. It competes with Didi Taxi, which is backed by Tencent.
— With assistance by Edmond Lococo
Before it's here, it's on the Bloomberg Terminal.
LEARN MORE