Ackman Says Former Herbalife Workers Turn State's Evidence
Duane D. Stanford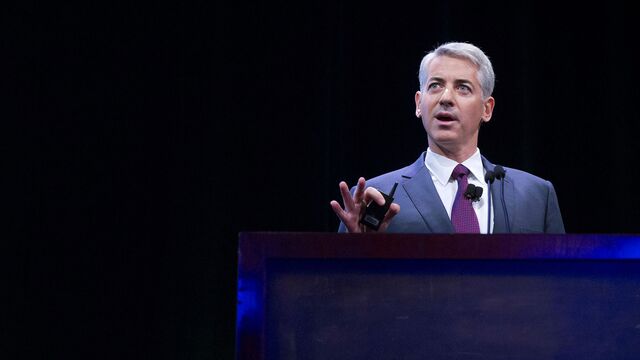 Billionaire hedge-fund manager Bill Ackman said former top distributors for Herbalife Ltd. have gone to investigators to back up his claim that the nutritional-product maker operates an illegal pyramid scheme.
"A lot of the former Herbalife employees, top distributors, are going state's evidence," Ackman said in an interview with Bloomberg Television today. "They are also going to Pershing Square."
Ackman, who has led a two-year campaign against the company, reiterated that government prosecutors are closing in on Herbalife, without being more specific. His firm, Pershing Square Capital Management, initially bet $1 billion against Herbalife, which Ackman has called a "criminal enterprise." The company, based in Los Angeles, has repeatedly denied being a pyramid scheme.
During today's interview, Ackman also provided a video from 2005, saying it shows a top Herbalife distributor acknowledging that the company operates a pyramid scheme. Pershing has agreed to protect some of the purported whistle-blowers from lawsuits, he said.
"Each quarter Bill Ackman pulls some stunt to help out his put options and drive down the stock price, all to benefit his billion-dollar portfolio," Alan Hoffman, an Herbalife spokesman, said in an e-mail. "All companies evolve and selectively picking out a few anecdotes that are close to a decade old does not accurately reflect the current activities of the millions of members and customers who use our products on a daily basis."
Renewing Criticism
Shares of Herbalife rose 1 percent to $37.74 at the close in New York. They have dropped 52 percent this year.
The investor is renewing his Herbalife criticism after months of letting the shares tumble without any high-profile, flashy attacks. The stock has slumped about 40 percent in the past five months, hurt in part as Herbalife made changes to its sales policies, while he has largely kept his mouth shut. In contrast, when Ackman made a highly publicized anti-Herbalife presentation in July, the stock actually rose 25 percent in a single day.
Herbalife's business practices are being reviewed by the Federal Trade Commission, an investigation that followed Ackman's initial attacks. While Herbalife has said that it expects to be vindicated, the probe has weighed on the stock. Herbalife also has imposed stricter selling rules on itself, aiming to blunt criticism from Ackman. That has contributed to slowing growth.
Slowing Growth
"Ackman forewarned that Herbalife couldn't continue its status quo if under formal FTC scrutiny," said Robert Chapman, an investor at Chapman Capital, who has been among the most vocal supporters of Herbalife and a critic of Ackman's pyramid thesis. "With a variety of indisputably revenue-stunting, FTC pre-emptive practice changes, there is little doubt that this has proven accurate."
Chapman said he began unwinding his long position in Herbalife in September as sales declined. He was out before the company's November earnings report, he said.
Herbalife disclosed the FTC investigation in March. The Federal Bureau of Investigation also has probed the company, people familiar with the matter said in April. The U.S. Securities and Exchange Commission, meanwhile, said earlier this year that it was considering whether to open its own review.
Before it's here, it's on the Bloomberg Terminal.
LEARN MORE