Who Owns 'The Hunger Games,' Liberals or Conservatives?
Progressives try to take back pop culture from the Tea Party.
By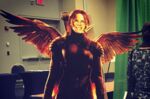 On Sunday afternoon, in one of the Washington Convention Center's many grey rooms, Andrew Slack told a few dozen progressive activists how The Hunger Games had helped organize striking fast food workers. He described how his organization, the Harry Potter Alliance, had taken its Odds in Our Favor campaign to a McDonalds, and how "we had fans and progressive activists going into McDonalds with a PDF, saying 'end your Hunger Games policies,'" before giving an iconic three-finger salute. Some of the fast food workers were too old to be truly into the Suzanne Collins novels/Jennifer Lawrence movies about the fictional revolt in an oligarchic dystopia. Their kids were not. They knew who Lawrence's Katniss Everdeen was, and they adored her.