Who Owns 'The Hunger Games,' Liberals or Conservatives?
Progressives try to take back pop culture from the Tea Party.
By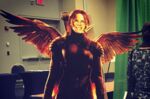 On Sunday afternoon, in one of the Washington Convention Center's many grey rooms, Andrew Slack told a few dozen progressive activists how The Hunger Games had helped organize striking fast food workers. He described how his organization, the Harry Potter Alliance, had taken its Odds in Our Favor campaign to a McDonalds, and how "we had fans and progressive activists going into McDonalds with a PDF, saying 'end your Hunger Games policies,'" before giving an iconic three-finger salute. Some of the fast food workers were too old to be truly into the Suzanne Collins novels/Jennifer Lawrence movies about the fictional revolt in an oligarchic dystopia. Their kids were not. They knew who Lawrence's Katniss Everdeen was, and they adored her.
"There was this boy, 11 years old, whose mom was a fast food worker at the protest," said Slack, an energetic speaker whose face is half glasses and half beard. "I said, Hey, did you do a picture yet? He said, 'No, I was too short.' I said, Can I lift you up? He said, 'Yeah! Mom, you be Katniss, I'll be Peeta.' His mom is his hero, and suddenly this connection is being made: My mom is like Katniss Everdeen. And other people are validating that."
Slack's presentation was one of the last at RootsCamp, an annual two-day conference of progressive activists. It's the sort of space (the word "space" is always used, not "place") that draws techies to explain their latest innovations, reporters to see what they can get the techies to say on the record, and many more grassroots activists working on the left. This year's conference attracted—for natural reasons—a lot of optimistic people whose political campaigns had gotten hammered by Republicans. It brought together activists who'd washed tear gas out of their eyes in Ferguson and struggled to register voters in the vain hopes of turning Texas blue, or blue-ish.
The Odds in Our Favor campaign offered something different: A ready-made pop culture vehicle for progressive activism. It had been going on for more than a year. The Harry Potter Alliance had been kicking for nine years. None of the people with rights claims had shut down the Hunger Games tribute; Harry Potter author J.K. Rowling had praised Slack's efforts to motivate activists through her characters.
"How do we focus on November, the election for the heart mind and soul of the American people?" asked Slack. He was talking about the release of the final Hunger Games movie, in 2015, not about an election. "How can we have all of the progressive groups, the progressive leaders, come around behind The Hunger Games? If you don't, you're turning away found money."
There had been other attempts to claim The Hunger Games for real-world causes. Most famously, anti-government activists in Thailand had responded to crackdowns with the three-finger salute. At RootsCamp itself, the campaign to draft Massachusetts Senator Elizabeth Warren for president parked a Katniss Everdeen stand-up at their booth, Jennifer Lawrence's head replaced, startlingly, with Warren's. ("That wasn't our idea but it was awesome," said Slack.)
And last year, the Tea Party Patriots launched a campaign to brand their causes as a Hunger Games-style fight of the people versus the moneyed, corrupt Capital. At the 2013 Conservative Political Action Conference, TPP held a Hunger Games-themed after-hours karaoke party, and debuted a sci-fi video which, they claimed, raised $1 million in a week.
 "I'm a big fan of the books and the movies," said Mark Meckler, a co-founder of TPP who's since moved on. "My wife and kids are, too. We like them for the entertainment value, not the politics. But the movies clearly can be used as a poignant cultural overlay for today's politics. The Hunger Games belongs to the people.  It's not a story of liberalism or conservatism or even libertarianism.  It is a story of the ruling elite vs. the people, and thus it appeals on a populist level to all but strident statists."
Sure, but Slack would really prefer if liberals took more ownership of the Katniss brand. "We have two ears, and we have one mouth," he said. "And we have one heart. Sometimes, when we get too into theory, we forget the heart. Legal gay marriage couldn't have happened without 'Will and Grace,' without culture. Activism is one big show. Rosa Parks was an activist, yes. The activists who worked with her didn't say, oh yeah, there was a pregnant teenager named Claudette Colvin who refused to leave the back of the bus before Rosa Parks did. It's performance. The injustice already exists. We've just gotta have Mockingjays. And remember what it says at the end of Catching Fire: We have to remember who the real enemy is. It could be capitalism, or it could be that dearth of civic imagination – that 'iron cage' that Max Weber talked about."
Slack took questions, and he kept popping off metaphors and zingers. The Harry Potter Alliance was engaged in an "Imagination Stimulus Plan." The ready-made rebuttal to corporate personhood should be. Too many people focused on narrow political wins instead of capturing pop culture. "The revolution will not be funded by your $3 donation by midnight tonight," said Slack.
When the event ended, Slack half-jokingly apologized for how much time he'd taken—"I'm a cisgender white male and I'm used my privileges!"—and stuck around to take sign-ups. The next day, Meckler emailed me with David Cay Johnston story titled "The Hunger Games Economy," about the budget deals that ended 2014. He was not the first writer to apply the title that way, and make a real-world problem relatable by grounding it in fantasy.
"This is the real deal," wrote Meckler in an email. "DC... both parties... vs. the citizen."