Memories of 1998 May Persuade Yellen's Fed to Keep Rates Low
By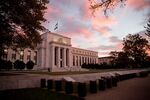 All eyes will be on Federal Reserve Chair Janet Yellen on Wednesday as the rate-setting Federal Open Market Committee announces the results of its two-day meeting in Washington. If Yellen and her fellow rate-setters paid attention only to the U.S. economy, she might hint Wednesday that the central bank is getting ready to raise interest rates. But turmoil abroad triggered by falling oil prices—including the implosion of Russia's ruble—could cause the Fed to hold its fire for a while longer.
The precedent is 1998, a year with remarkable resemblances to 2014. Then, as now, the U.S. economy was strong and the Federal Reserve had a "tightening bias," meaning that it was telegraphing that its next move would be to increase interest rates. Then, as now, growth abroad was far weaker. The dollar and U.S. bond prices were rising while emerging markets and oil were tanking. Late in 1998, Russia fell into a full-blown crisis that ended in a default on government debt, something that hasn't happened this year —yet.
History doesn't repeat itself, but it does rhyme, says David Rosenberg,chief economist and strategist of Gluskin Sheff & Associates, an independent wealth management firm based in Toronto. If 1998 is any guide, says Rosenberg, the Fed is likely to delay moving toward tighter rates.
"The Fed would like to start raising rates. Under normal circumstances, they probably would—sooner, rather than later—based on the fact that we're at zero [the target federal funds rate is 0 to 0.25 percent] and the labor market is firming," Rosenberg says. "The problem is that these are not normal times. The Fed has never turned a blind eye to the rest of the world."
While the U.S. economy is likely to sail through this storm, the turbulence abroad does add to uncertainty about the outlook; when faced with uncertainty, the Fed tends to stand pat. Says Rosenberg: "Fed policymakers are like portfolio managers: It's all about probabilities. They operate across a whole curve of expected outcomes. My sense is that there are reasons to raise rates. There are also reasons to wait. History is that when there's global volatility and uncertainty, they tend to sit back and assess the situation."
What makes cheap oil such a wild card for the Fed is that it has contradictory impacts. By lowering inflation, it lessens the need for the Fed to raise interest rates as a weapon against inflation. But by leaving more money in the pockets of gasoline-buying drivers, it strengthens the economy, which could justify raising sooner. As Rosenberg says, "It sounds like a bad case of cognitive dissonance."
From Dec. 10 to Dec. 12, Bloomberg News surveyed economists about their expectations for this month's Fed meeting. Thirty-eight of the 56 who responded said they expected the Fed to take a step toward tightening by changing the language in its statement about the outlook for interest rates, removing the phrase about waiting a "considerable time" and replacing it with a phrase such as "patient." Momentum toward this sort of change has been building for months. On the other hand, a lot has changed in the last few days, even since Dec. 10-12. The Fed may keep its current language after all, as 13 of the respondents to Bloomberg's survey said.
Before it's here, it's on the Bloomberg Terminal.
LEARN MORE