Sony Received $7 Billion Financing Proposal, E-Mails Show
Pavel Alpeyev, Grace Huang and Anousha Sakoui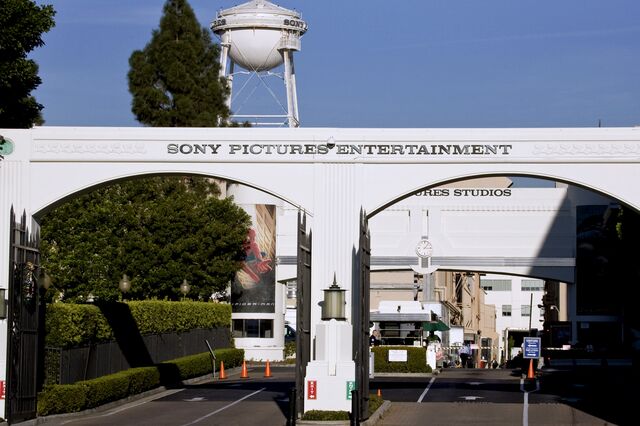 Sony Corp.'s entertainment unit was approached over a potential $7 billion financing offer from a group it believed was linked to princes from the Middle East, according to documents released by hackers who broke into the company's computers.
Under the proposal, the unidentified investors would commit $6 billion of debt and equity financing to fund Sony's film production, according to a Nov. 1 e-mail from Sony Pictures Motion Picture Group's chief financial officer, Stefan Litt. The plan also involved buying $1 billion in Sony stock.
Sony executives held preliminary meetings with representatives of the investors, according to a person with knowledge of the discussions. While Sony officials expressed interest in the plan, the structure was unusual and the parties never agreed on terms for formal negotiations, said the person, who wasn't authorized to speak publicly. The proposal is no longer being considered by Sony, the person said.
"While we deeply appreciate your efforts to revise the proposed LOI (letter of interest), we will be unable to execute this version by your deadline," Doug Belgrad, president of Sony Pictures Entertainment's motion picture group, said in a Nov. 4 letter to the investor group's representatives.
Hollywood has long drawn a diverse range of investors, from hedge funds to high net worth individuals, with the Chinese the most prevalent in recent years. While films are risky, they have attracted investors seeking higher yields than are available through government bonds or other corporate debt.
April Deals
In April, Sony arranged $200 million in debt and equity financing for films through Citigroup Inc. and the private-equity firm Lone Star Funds, people familiar with the deal said. Citigroup provided half, with a $100 million loan to help finance as many as 15 pictures. In May, Sony cut a co-financing deal with Village Roadshow Pictures for four films, according to Variety.
In the e-mails, Sony executives also voiced concerns about the anonymity of the potential investment group. They were introduced to Sony by former Marvel Entertainment Inc. Chief Executive Officer Peter Cuneo, who declined to comment in an e-mail.
"I realize this proposal appears to be a financial unicorn, but thank you all for spending time on this," Doug Belgrad, president of Sony Pictures Entertainment's motion picture group, wrote in a Nov. 1 e-mail, as the executives sought more time from the investors to agree terms over which talks could start.
Formerly RBS
A spokeswoman for Sony Pictures declined to comment. In an e-mail, Sony Corp. officials in Tokyo declined to comment on the financing proposal.
The investors were represented by International Investment Group Holdings and Serendipity Investment Group, according to the e-mails.
Michael Minnick, who according to the documents is a principal of International Investment Group and former head of corporate finance for telecom, media and technology at Royal Bank of Scotland Group Plc, didn't respond to telephone and e-mailed requests for comment. Carlos Melcer, a principal at New York-based International Investment, didn't respond to an e-mailed request for comment.
'Real Professionals'
Brigitte-Hannah Azoulay, identified in the e-mails as CEO of Serendipity, didn't respond to an e-mail seeking comment. Calls to a French number listed by Azoulay weren't answered.
The e-mails are part of the revelations coming out of the hacking, which garnered global headlines Nov. 25 and embarrassed Tokyo-based Sony with details of employee salaries, health records, movie stars' fees and private e-mails. Guardians of Peace, as the hackers call themselves, have released at least eight batches of data and promised a larger quantity on Christmas.
An earlier version of the financing proposal would have required Sony to issue a $3 billion off-balance sheet promissory note that wouldn't be registered, bear interest or be drawn on.
Sony executives took issue with some of the wording in the proposal, including its talk of the "fragility and volatility" of Sony's financial position and how access to $7 billion in funds could shift the market's perception of Sony.
"Seems to me that telling us we need to do this deal to save the company isn't how real professionals would go about trying to get a deal closed," John Fukunaga, deputy general counsel at Sony Pictures, wrote in a Nov. 1 message.
'Many Holes'
Among the other issues were a tight timeline that gave Sony little more than a month to close the deal by Dec. 15. The investors also insisted on meeting Chief Financial Officer Kenichiro Yoshida and Sony Pictures Chairman Michael Lynton in London.
"We believe it to be a vehicle controlled by the investment arm of a consortium of princes from the Middle East (such as Abu Dhabi)," Sony's Litt wrote in an e-mail. "We recognize that there are many holes in the information provided to date, but signing the letter and going to London to meet with them is the only manner in which we will gather more detailed information."
Ornate language from Serendipity's Azoulay, referring to e-mail as "electronic communication" and citing her "legendary integrity," prompted Sony Pictures General Counsel Leah Weil to speculate she was writing in French. Serendipity doesn't appear to have a website and Azoulay was writing from an AOL Inc. account, according to the e-mails.
"Lots of potential 'flags' here," Weil wrote.
'Under Construction'
Cuneo led a turnaround at Marvel, joining the comic book company as CEO in 1999 and later becoming vice chairman before it was sold to Walt Disney Co. in 2010. Cuneo, who is now chairman of publisher Valiant Entertainment, was previously CEO of electric-shaver maker Remington Products Co. and head of Black & Decker Corp.'s security hardware business.
International Investment Group was co-founded by bankers Minnick, who also worked at JPMorgan Chase & Co., and Melcer, who once worked at Hong Kong & Shanghai Banking Corp., according to the documents. The group's website lists offices in Los Angeles and New York while the personal website on Melcer's LinkedIn page has a message that it's "under construction."
While at RBS, Minnick advised on deals including the $17.9 billion buyout of Clear Channel Communications Inc. and the $28.1 billion takeover of Alltel Corp. by Verizon Communications Inc., according to a biography included in the hacked documents. He is listed in 2005 as an RBS banker attending an industry conference on telecommunications, according to an spreadsheet posted online.
Melcer's profile on LinkedIn lists a role advising film director Ridley Scott's Scott Free Productions among his previous positions.
Before it's here, it's on the Bloomberg Terminal.
LEARN MORE