Ruble Sinks to Record Low Defying Surprise Russia Rate Increase
Vladimir Kuznetsov and Ksenia Galouchko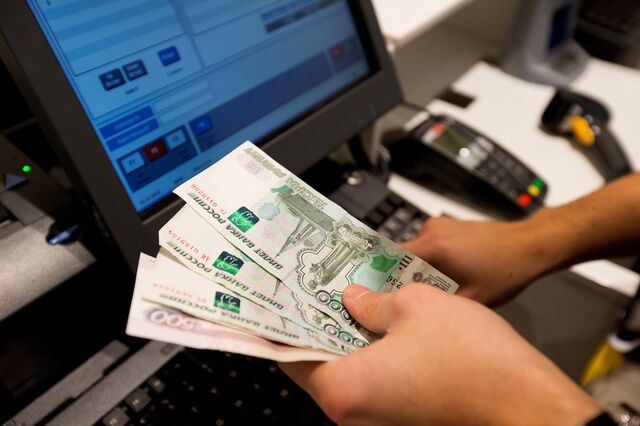 The ruble plummeted into a freefall, losing as much as 19 percent as panic swept across Russian financial markets after a surprise interest-rate increase failed to stem the run on the currency.
The ruble sank beyond 80 per dollar, a record low, before rebounding after Economy Minister Alexei Ulyukayev denied speculation that the government would turn to foreign-exchange restrictions to stop Russians from converting money into dollars. It was trading at 68 per dollar, down 5.4 percent on the day, at 8 p.m. in Moscow. Bonds and stocks also tumbled, with the RTS equity gauge dropping the most since 2008.
"I am speechless," Jean-David Haddad, an emerging-market strategist at OTCex Group in Paris, said in an e-mailed message. He said policy makers need to consider currency controls as "the last solution" to halt the ruble's 52 percent plunge this year. "What a failure for the central bank."
The scope and speed of the ruble's retreat indicate policy makers are losing control of the situation as the six-month, 49 percent tumble in oil robs President Vladimir Putin of the hard currency he needs to sustain an economy that's faltering under the weight of international sanctions. The selloff in Moscow is spreading across the globe, prompting nervous investors to pull money from other developing nations amid concern that Russia's financial struggles and the tumble in oil signal a global economic slowdown.
Impromptu Meeting
A Bloomberg gauge tracking the top emerging-market currencies fell to the lowest since 2003 while equity benchmarks in Dubai and Saudi Arabia lost more than 7 percent each and Indonesian policy makers propped up the rupiah after it fell to a 16-year low. Bank of England Governor Mark Carney said today that he sees the potential for contagion effect from emerging markets into developed ones that could have "some impact" on financial stability and growth.
Russian government officials including central bank Governor Elvira Nabiullina and Finance Minister Anton Siluanov huddled tonight to discuss ways to combat the crisis, less than 24 hours after the 6.5 percentage-point rate increase, to 17 percent, could only stoke a brief rally in the ruble before it began falling.
In addition to denying that officials were considering currency restrictions, Ulyukayev, the economy minister, told reporters after the meeting that "of course" rates should have been raised earlier than they were. No policy changes were announced.
Dollar Demand
Speculation has been growing that foreign-exchange controls were imminent, with firms from Schroder Investment Management Ltd. to Skandinaviska Enskilda Banken AB, or SEB, saying they were possible. Per Hammarlund, chief emerging-markets strategist at SEB, said the government could make it harder for depositors to swap cash into hard currency or require exporters to bring some earnings into the country.
While there were no initial signs today of Russians lining up in downtown Moscow to pull their ruble deposits and buy dollars, Khanty-Mansiysk Otkritie Bank, the retail arm of the country's second-largest private lender, said demand for foreign currencies was three to four times the daily average.
Even after rebounding late in Moscow, the ruble was still down 14 percent this week and 27 percent this month. It earlier fell the most in a day since the country defaulted and devalued the currency in 1998. Ten-year ruble bond yields jumped 3.05 percentage points to 16.28 percent while the annual cost of insuring against a debt default climbed to 5.55 percent in the credit-default swaps market, the highest since 2009.
'No Bids'
"Our traders are informing me that we see no bids to buy rubles," SEB's Hammarlund said. "I thought 17 percent would give them at least a month of breathing space. We next have to look at the experience in 1998-1999. We are also one big step closer to capital controls."
Three-month implied volatility, a gauge of expected swings in the currency, surged 11 percentage points to 56 percent today, the highest level since 2005, according to data compiled by Bloomberg.
The swings are proving too much for some brokers. FXCM Inc., the third-largest currency broker for retail clients, will stop offering the ruble versus the dollar and begin closing its customers' trades. Alpari UK Ltd. stopped clients from taking new positions, while Saxo Bank A/S and Gain Capital Holdings Inc.'s Forex.com said they planned to demand higher deposits from clients to deal in the currency.
Rosneft Financing
The currency's plunge was exacerbated by concern that policy makers were pumping more rubles into the economy to prop up state companies like oil giant OAO Rosneft, measures that effectively give investors additional money to purchase dollars.
OAO Rosneft's Chief Executive Officer Igor Sechin said suggestions the company's bond sale contributed to the ruble's decline were a "provocation" and reiterated that it has no plans to convert the 625 billion rubles it borrowed last week into dollars. Rosneft sold 57 percent of the $118 billion of foreign currency it earned in the first nine months of the year, he said.
But central bankers are pushing rubles into the financial system to prevent credit from seizing up and deepening the slowdown in an economy that's already sinking into recession nine months after Putin invaded Ukraine's Crimea peninsula. The central bank alotted 3.1 trillion rubles in seven-day loans, known as repos, at an auction today, the second-biggest such operation since May.
'Too Late'
The ruble has kept plunging even after the central bank raised rates 11.5 percentage points this year, including today's surprise move, and spent more than $80 billion in the foreign-exchange market, draining reserves to a five-year low. Russia is sinking into stagflation as a recession looms at the same time that inflation soars to a three-year high.
The economy may shrink as much as 4.7 percent next year if oil, Russia's biggest export, averages $60 a barrel under a "stress scenario," the central bank said yesterday. Net capital outflows may reach $134 billion this year, more than double last year's total.
"It's very hard to stop the panic since everyone is betting against the ruble," Vadim Bit-Avragim, a money manager at Kapital Asset Management LLC in Moscow, said by phone. "The central bank was too late with its move. Without oil and the economy stabilizing, the ruble won't rise."
Before it's here, it's on the Bloomberg Terminal.
LEARN MORE