pursuits
Now Dov Charney Is Really Fired From American Apparel
By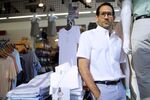 It's over between Dov Charney and American Apparel. The company he founded has fired him.
The board of directors tried to kick out Charney back in late June after accusing him of financial misconduct and violations of the company's sexual harassment policy. After an investigation that seemed to last much longer than anyone anticipated, the board decided "that it would not be appropriate for Mr. Charney to be reinstated as CEO or an officer or employee."

The new chief executive starting in January will be Paula Schneider, a veteran of Warnaco and BCBG Max Azria.
"I'm proud of what I created at American Apparel and am confident that, as its largest shareholder, I will have a strong relationship with the company in the years ahead," Charney said in a statement.
The American Apparel founder was genuinely surprised that the board he selected to help run the company he founded wanted to get rid of him, and he didn't go quietly. We spoke on the phone (and mostly off the record) for hours as he fought to regain control this summer. He called at midnight to criticize a story I had written. And if I texted a question, he texted right back. Sometimes there were several of us on the phone at once.
He was by turns funny, crass, outraged, and unapologetic. Candor wasn't a problem. He had moments of self-awareness. I always looked forward to talking to him.
I don't know Paula Schneider. It's safe to say, though, that she's no Dov Charney.
Before it's here, it's on the Bloomberg Terminal.
LEARN MORE