Nigerian Muslim Militiamen Battle Boko Haram's Caliphate
Mustapha Muhammad and Chris Kay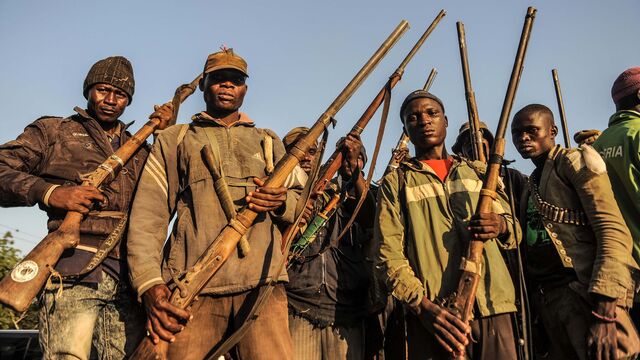 "Allahu Akbar!" local Nigerian militiamen known as vigilantes shout as they go into battle against the Islamist militant group, Boko Haram.
They chant partly to bewilder the insurgents and partly because they too believe in the Islamic faith and that they have God on their side in a war in northern Nigeria that is pitting Muslim civilians against militants trying to set up an Islamic State-style caliphate.
"They become confused about who is saying the slogan, we lie down and hide, and as they approach we then open fire on them," Tasiu Musa, a 40-year-old father of four in Maiduguri, the capital of the northeastern state of Borno, said in an interview last month.
Musa and thousands of other Muslim volunteers like him have taken up arms to defend their towns and cities from Boko Haram, the group whose name roughly translates as "Western education is a sin." Armed with flintlock muskets and bows and arrows, the militiamen are winning back territory that the army has failed to recapture in Africa's biggest oil producer.
"Our town is ruined by insurgency, our people are being killed on a daily basis," said Haruna Ibrahim, another Maiduguri resident.
Northeastern Attacks
Ibrahim, a 32-year-old bricklayer, said the insurgency has wrecked the local economy and cost him his job. Religion has nothing to do with the militants' cause, he said. A veteran of battles in the towns of Damboa, Meiha and Gombi near Boko Haram's stronghold in the Sambisa forest, Ibrahim said the militants rob people, shops and banks.
"They relate themselves to Islam and Muslims, but they are killing everyone: Muslims or Christians," he said. "This will tell you that they are not fighting for Islam -- they are on a rampage to acquire wealth and their ideology is not Islamic."
The Muslim militiamen are acting out of desperation. As Boko Haram expands its attacks on northeastern Nigeria in its five-year-old campaign to establish Shariah, or Islamic law, in Africa's largest economy, leaders in the mainly Muslim region have urged residents to fight the militants.
The Emir of Kano, Muhammad Sanusi II, a former central bank governor and second-highest Islamic leader in the country, has called on Nigerians to defend themselves against Boko Haram. Bombings last month killed more than 100 people at the city's central mosque.
Liberating Chibok
The government of Africa's most populous nation of more than 170 million has struggled to contain the rebellion that has killed at least 13,000 since 2009.
Last month the vigilantes helped liberate the town of Chibok, which made international headlines in April when Boko Haram kidnapped more than 200 schoolgirls. Most of the students are still missing.
About 200 vigilantes from Damboa and Maiduguri reached Chibok and managed to overpower the outnumbered insurgents, said Baana Kalla Gwange, a militia member.
"It boils down to home advantage," Manji Cheto, vice-president at corporate advisory company Teneo Intelligence, said by phone from London. "A lot of the vigilante groups are not necessarily operating in the same geographical confines as the military, they are operating in much smaller areas and in towns they're quite familiar with and therefore advantage plays in their favor."
Registering Militiamen
Lack of maintained equipment and resources is sapping the morale of the security forces, contributing to desertion and mutinies, a Chatham House report said in September. Nigeria's armed forces have also been accused of human rights abuses by groups such as London-based Amnesty International, allegations the military has denied or said it's investigating.
"The military has failed to protect Nigeria's territorial integrity," Cheto said. Vigilantes have come from communities that "felt let down by security forces," she said.
Military spokesman Chris Olukolade's phone was switched off and he didn't respond to text messages and e-mailed requests for comment.
The vigilantes' effectiveness has prompted some states to consider registering and employing them. Adamawa state said last month it had set up a committee to find out the best way to hire hunters and militiamen and will screen about 10,000.
"They could become tools in the hands of politicians" as the country heads toward elections in February, Freedom Onuoha, a research fellow at the Abuja-based National Defence College, said by phone. "It's very hard to say who is arming these guys."
Stiff Challenge
Nigeria is drifting toward political violence that may result in disputed elections and authorities need to take action to stop it, Brussels-based International Crisis Group said in a report last month.
President Goodluck Jonathan's ruling People's Democratic Party will face its stiffest challenge yet since coming to power at the end of army rule in 1999. Jonathan, a southern Christian, faces a united opposition led by former military dictator Muhammadu Buhari, who is expected to gain large support from the mainly Muslim north.
The phenomenon of the militias is fraught with danger, according to Onuoha. There's a high chance many members of the militia may become political pawns as the general elections approach or slip back into society as criminals in a region known for grinding poverty and unemployment, he said.
"It's very, very dangerous," said Onuoha. "We are creating another monster."
Ibrahim said the vigilantes believe they have no choice but to fight Boko Haram to re-establish peace and restore the economy in the region.
"They are also tarnishing our religion, the religion of peace," he said. "These are the reasons why we fight them."
Before it's here, it's on the Bloomberg Terminal.
LEARN MORE