New York's SantaCon Wants to Be a Little Less Naughty
By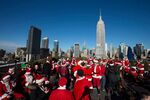 Pub crawls don't usually start with a speech about civil rights. But on Dec. 13, the New York City version of SantaCon—a 20-year-old tradition in which tens of thousands of strangers dress up as Santa Claus and travel from bar to bar getting hammered—kicked off with a talk by civil rights lawyer Norman Siegel.
"The First Amendment means that the government cannot prohibit [SantaCon's] expression," Siegel, who was working pro bono for some of SantaCon's anonymous organizers, told thousands of Santas in Times Square before going on to mention freedom of expression, censorship, and, of course, Christmas.
Local bars and businesses pushed back against the unwieldy and increasingly anarchist event this year, which is second only to St. Patrick's Day in terms of the number of drunk people wandering around New York in silly costumes. The city's SantaCon raised an estimated $60,000 for charity last year, according to the event's website, but that good is arguably overshadowed by videos of drunk Santas accosting cab drivers and brawling outside bars.
"Any increase in business that you get from showing up is definitely outweighed by the potential damage and liability that's going to happen," says Jesse Levitt, owner of Kings County Bar in Brooklyn's Bushwick neighborhood. "You need extra staff and security. They don't tip well, so even bartenders don't like them." Levitt was one of several Bushwick bar owners who fought to get SantaCon kicked out of their neighborhood; Manhattan's East Village and Lower East Side asked Santas to keep out as well.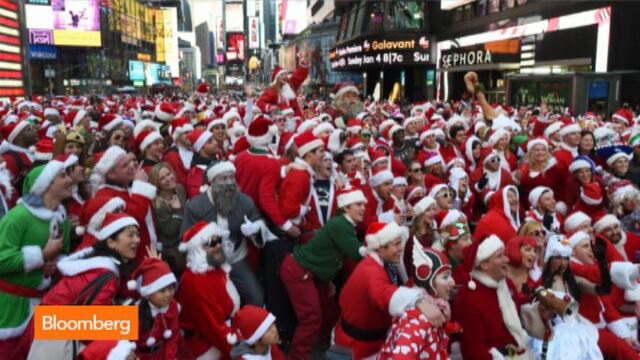 "They absolutely wrecked the place four years ago," Nick Cohen, owner of the Hell's Kitchen bars Stitch and Houndstooth, complained last week as he prepared for the annual Santa invasion. "Stitch was one of the first stops, so we got them before they were really hammered. Even so, they stood on tables, they wrecked the toilets. It's not what we wanted." Stitch has never participated again. On some websites, Houndstooth had been listed online as an official stop on this year's SantaCon, but Cohen insists he never agreed to participate. "They asked, but I just didn't reply. Being in Hell's Kitchen, though, we can't avoid them, so we're preparing as best we can."
This isn't how SantaCon used to be. The event was originally conceived in 1994 as a sort of theatrical stunt by San Francisco's Cacophony Society. A group of friends, which included Burning Man co-founder John Law, took their idea from a 1977 Mother Jones article about a group of 75 Santas in Copenhagen who were members of a Danish guerrilla theater group and had been doing stunts around the city to protest the commercialization of Christmas.
The first San Francisco SantaCon had only 33 attendees. They traveled by school bus, crashing parties and chanting "Charge it! Charge it!" at confused customers at Macy's. "We may have had a couple flasks with us, but we weren't drunken vomiting Santas at that point," says Law. Within a few years, SantaCon had spread to Portland, Ore., and Los Angeles. The first New York SantaCon was in 1998, when a horde of Santas protested at the United Nations Headquarters, carrying signs reading "Keep UN Out of North Pole" and others. The event grew bigger and bigger every year.
By the early 2000s, SantaCon had turned into a bar crawl, and most of the original members had dropped out. (Although, several people claim that one of the founders, who wishes to remain anonymous, still lurks among the Santas every year.) This year, SantaCons took place in almost 200 cities around the world, from Bangkok to Winnipeg. But New York's remains the largest, where last year an estimated 30,000 people showed up to drink themselves silly. The anticonsumerism message has long been forgotten.
"When I see what SantaCon has become, I've felt a sense of loss," says Kevin Mathieu, who organized the 1997 San Francisco SantaCon and has participated in others. "People don't feel a connection to anything. It's just an excuse to get drunk all day." The event's original organizers even staged a so-called SantaCon funeral in San Francisco.
This year's New York SantaCon coincided with the Millions March NYC, a scheduled rally against the killing of unarmed black citizens by police. According to the New York Police Department, between 25,000 and 30,000 people flooded the streets of Manhattan to protest the deaths of Eric Garner, Michael Brown, and others. That, combined with bar owners' criticisms, caused SantaCon's organizers to scale back the event. SantaCon was officially limited to about 32 participating bars, and Santas were discouraged from straying into inhospitable neighborhoods.
"We discussed what SantaCon had become and what the organizers wanted it to be," says Siegel, who won't reveal those behind the event but says it's a collection of 20 otherwise unaffiliated people. "They're all professionals. A few of them are lawyers," he says. In the weeks leading up to the event, Siegel and some of the organizers met with the NYPD to discuss how to curb the public drunkenness. Their efforts may have made SantaCon worthwhile again. Or at least slightly less terrible.
"People were actually well behaved this year," Houndstooth owner Cohen said on Sunday afternoon, the day after SantaCon. "Nothing was broken. Our toilets were fine. We made a lot of money. I was happily surprised." Cohen says he received an e-mail from SantaCon organizers asking him to donate 15 percent to 20 percent of the bar's proceeds to charity; instead, Houndstooth solicited donations for local children's hospitals from the roughly 200 Santas who came through its doors. Siegel says he's received e-mails from several bar owners who said they'd made more money this year than during any previous SantaCon. A few Santas harassed the Millions March protesters, but for the most part the two groups seem to have left each other alone.
Because it's so large, SantaCon will almost certainly remain uncontrollable. But if it can evolve from an anticonsumerism flash mob into a debauched drinking party, there's no reason it can't evolve again. Siegel says organizers are considering going official next year, with city permits and a possible parade. "Their original message was the overcommercialization of Christmas, but it got lost in the drinking and dancing and the noise," he says. "The organizers know they need to decide whether they want to work on that, and I think they're making a good faith effort."
Before it's here, it's on the Bloomberg Terminal.
LEARN MORE