Lawyers, Bankers Snared in Gunman's Trap in Sydney Siege
Michael Heath and Benjamin Purvis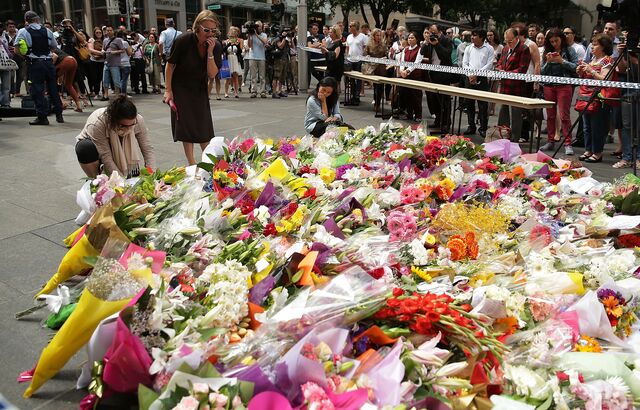 The gunman who took 17 hostages at the Lindt cafe on Martin Place, struck the hub of Sydney's legal and financial community, terrorizing bankers and lawyers buying their morning coffee.
The siege ended in a pre-dawn shootout today that left mother-of-three Katrina Dawson, a 38-year-old barrister, and the cafe's manager Tori Johnson, 34, dead. Man Haron Monis, the 50-year-old gunman, was also killed as police stormed the premises.
A carpet of floral tributes lined the pavement and mourners queued to sign condolence books in the plaza, home to the Reserve Bank of Australia, Macquarie Group Ltd. and the U.S. Consulate. Four employees of Westpac Banking Corp. were among the hostages that were freed, Chief Executive Officer Gail Kelly said in a statement.
"Our thoughts and prayers are with the families of the two deceased hostages, the wounded, and the other hostages," Prime Minister Tony Abbott said in a statement. Flags at government buildings were flown at half mast today as a mark of respect.
Dawson, who hailed from a wealthy Sydney family, had achieved a perfect score in her final high school exams in 1994, Ascham School said in a statement. She graduated with a Bachelor of Arts in 1998 and Bachelor of Laws in 2000, the University of Sydney said.
"Katrina was one of our best and brightest barristers who will be greatly missed by her colleagues and friends," the New South Wales state Bar Association said in a statement. "She was a devoted mother of three children, and a valued member of her floor and of our bar community."
Sawn-Off Shotgun
Cafe manager Johnson died from a gunshot wound after he attempted to wrestle a sawn-off shotgun from the hands of the hostage-taker, as the man began to doze off at about 2 a.m., Channel Nine reported.
"He was a really important part of our management team in Australia and his loss is absolutely tragic," Lindt Australia Chief Executive Officer Steve Loane said in a statement on the company's Facebook page.
Police Commissioner Andrew Scipione praised the hostages for their courage during the siege.
"They were just buying a cup of coffee and got caught up in this affair," he said. "They were caught up in this room and needed to make hard decisions."
Four people received gunshot wounds, including a 75-year-old woman who was hit in the shoulder, a 52-year-old woman who was shot in the foot, and a 43-year-old woman treated for a leg wound, police said in a statement. All three are in a stable condition. A police officer received a minor facial injury and was discharged from the hospital after treatment.
Two pregnant women held hostage were assessed by doctors.
Flower sellers in Martin Place were running short of floral tributes as people quietly queued to pay their respects near the cafe. Abbott and his wife Margie were among them, signing the condolence book and leaving flowers.
There were signs of a return to normality in the area that was cordoned off yesterday and swarming with officers clad in riot gear and carrying automatic weapons. Construction work at an office redevelopment on the plaza resumed, as workers locked down in their offices or evacuated yesterday milled around.
Before it's here, it's on the Bloomberg Terminal.
LEARN MORE