Japan Fiscal Fundamentalists Face Weakened Sway With Abe Win
Masaaki Iwamoto, Toru Fujioka and Kyoko Shimodoi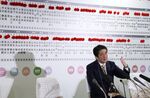 More than 20 years after Bill Clinton weighed in on an internal Japanese battle to wrest control of economic policy from bureaucrats, it's still raging.
The good news, from Clinton's perspective, is that Prime Minister Shinzo Abe may be getting the upper hand.
In 1994, the U.S. president railed against the "permanent government agencies" that Japanese politicians were seeking to restrain as they sought to open up what was the world's second-largest economy. While the apex of the nation's bureaucracy -- the Ministry of Finance -- saw its powers diminished later that decade, it retained enough influence to mount a successful 2012 campaign to increase Japan's sales tax.
Abe -- grandson of a top bureaucrat who later became prime minister -- struck a blow against the ministry that has sought fiscal tightening, by last month postponing the doubling of the consumption levy. He has also this year seized control over the appointment of senior career civil servants. The moves by Abe, 60, establish a strengthened role for political leaders.
"Abe is escaping narrow-minded ways of thinking -- he has his own ideas and approach," Koichi Hamada, a former Yale University economist who has advised Abe on economic policy, said in an interview. "The MOF-driven decision making process is changing, and I believe this will continue."
A victory by the ruling Liberal Democratic Party in a lower house of parliament election Dec. 14 has given Abe the opportunity to stretch his rule to 2018, helping cement his model of prime ministerial-driven decision-making.
Budget Power
"Control of economic policy was the focus of this election," Abe said on Dec. 15. The message from voters, he added, "was to move forward with Abenomics."
The Ministry of Finance, with its main building within three blocks of the parliament, prime minister's office and Imperial Palace, oversees taxation and the distribution of the central government budget, along with foreign-exchange policy. MOF members write the bulk of the annual budget, working with the prime minister's office, lawmakers and parliamentary staff.
Established in 1869 as Japan's modernization campaign began, it has 1,800 civil servants at its main offices, and typically hires little more than two dozen college graduates a year. It rarely hires people mid-career -- and when it does, they are mainly men.
A preoccupation with raising taxes began decades ago, according to Mitsuru Kurayama, author of "Modern History of the Ministry of Finance" in 2012. Prime Minister Kakuei Tanaka, a populist who in 1972 vowed to transform the Japanese archipelago and oversaw an expansion in government spending, conjured a "picture of hell" for the MOF, Kurayama said.
1970s Conclusion
By the late 1970s, the ministry concluded that there was little choice but to increase taxes as a way of balancing the expansion in outlays, said Kurayama, who lectures on the Japanese constitution at Kokushikan University in Tokyo. With veterans of the ministry placed in other organizations including the central bank and Tokyo Stock Exchange, the MOF has a network it can plug into to spread its message, he said.
Bank of Japan Governor Haruhiko Kuroda is a MOF veteran, as are the International Monetary Fund's No. 3 official, the head of the Asian Development Bank and a deputy chief of the Organization for Economic Cooperation and Development.
Adherents of boosting taxes also are found inside Abe's party, including Sadakazu Tanigaki, a onetime finance minister who later became leader of the LDP, and Takeshi Noda, the head of the LDP group overseeing tax matters.
"It's not easy to change the direction of this large ship," Abe said of the LDP in a Nov. 30 interview on Fuji TV, when asked about the Finance Ministry and its influence.
'Linear Thinkers'
Bureaucrats at the ministry "are linear thinkers about cause and effect -- we will raise taxes, tax revenue goes up, and we have more room for spending," said Etsuro Honda, an aide to Abe who counts himself as an exception to the rule, when he was working at the MOF himself.
Many senior bureaucrats got their training at the law department of the University of Tokyo, the nation's most highly regarded. Joining the ministry in their 20s, the almost-entirely male classes rise through the ranks, rotating through sections including the budget, tax and international bureaus.
"It's like an old-boys' club," said Hamada, who himself earned a law degree from the University of Tokyo before studying and later teaching at Yale in New Haven, Connecticut. Bombarded by politicians and counterparts in other ministries seeking approval for their projects, MOF officials can become too focused on the need to raise revenue as a balance, he said.
Taxing Record
Using their regular interactions with lawmakers and sway over the budget process, bureaucrats convinced then-Prime Minister Noboru Takeshita's administration to introduce a national sales tax in 1989, of 3 percent -- a move that contributed to his political downfall.
When the LDP was ousted by a coalition led by Morihiro Hosokawa in 1993, the Clinton administration backed the new government's efforts at what was termed administrative reform. Clinton in a February 1994 radio interview said "we're helping the cause of the reformers" by taking a tough line in trade talks.
Hosokawa's deregulation program proved a disappointment to investors the next month, and by April he was gone.
With Japan's economy stagnating under the burden of a rise in bad loans after burst asset bubbles, Ryutaro Hashimoto took up the effort to restrict the MOF's influence over banks, which had been rolling over nonperforming assets rather than writing them off. The ministry was stripped of banking oversight, which was transferred to a new Financial Services Agency. The Bank of Japan also was granted independence, establishing greater distance from the MOF.
Hashimoto Debacle
Even so, Hashimoto agreed to an increase in the sales tax, to 5 percent, in a decision that helped tip the economy into a recession and trigger his resignation.
The Hashimoto experience left politicians wary of both the economic and political dangers of raising the consumption tax. Meantime, as Japan's debt climbed amid economic stagnation and deflation to 200 percent of gross domestic product in 2010, Finance Ministry staff "became like fundamentalists for a sales-tax increase," Kurayama said.
By then, a new party had taken office, the Democratic Party of Japan, with a leadership committed to elevating the role of politicians and eroding the power of bureaucrats. Then-Prime Minister Yukio Hatoyama in 2009 created a national-strategy bureau that would be in charge of creating a "budget framework" for the MOF to complete.
MOF's Win
Instead, it was the Finance Ministry that prevailed during the DPJ administration, which Abe ousted in a December 2012 election. Yoichi Takahashi, a former MOF official who is now a professor at Kaetsu University in Tokyo, said bureaucrats were able to take advantage of the inexperience of DPJ lawmakers.
During his term as finance minister, senior DPJ lawmaker Yoshihiko Noda became convinced of the need to raise the sales tax, something that would break the party's no-tax rise pledge. After he became prime minister, he enacted a two-step consumption-tax increase after reaching a deal with then-LDP chief Tanigaki.
Abe inherited that law after taking office, and was told by some of his advisers that it would be better to carry out his own economic revival program first, before implementing the doubling of the consumption tax scheduled in the law.
The Finance Ministry won the first skirmish, as Abe opted to carry out a 3 percentage-point increase in the consumption levy, to 8 percent, in April 2014.
First Round
Abe's assent followed an aggressive campaign by MOF bureaucrats with the prime minister's office, according to a government official familiar with the discussions. After ruffling a cabinet member, the ministry had a softer line this year, urging at least that no decision be made until early December, after updated economic data.
In the end, Abe didn't wait, convinced in part by arguments presented by Nobel laureate Paul Krugman, who pressed him to focus on his own growth program first, according to Abe aide Honda. Honda and Hamada had both pressed for a delay.
"They went to all sorts of people, from professors to economists and even some in the media," Honda said of MOF staffers. "They were applying human-wave tactics."
Now, Abe has the chance to strengthen his model of bringing in outside advisers and housing more decision-making in the prime minister's office, with a renewed mandate on Dec. 14.
Yuri Okina, a Japan Research Institute Ltd. economist in Tokyo who serves on a MOF fiscal advisory panel, said the election win would give the prime minister's office more influence on policy setting versus the Finance Ministry.
"I'm especially concerned about whether Abe is able to seriously work on fiscal consolidation after the election," she said.
Before it's here, it's on the Bloomberg Terminal.
LEARN MORE