pursuits
Recession-Hit Japanese Suffer Again as Whiskey Prices Soar
By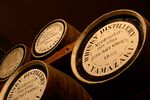 As people in Japan prepare to say good riddance to another year of recession, weary consumers received more bad news on Tuesday. It was bad enough that a big increase in the consumption tax helped sink the economy; now comes news from the country's largest liquor maker that the drinking custom of kanpai, or cheers, will become a lot pricier in the New Year.
Suntory, the Tokyo-based company that this year bought Jim Beam, announced on Tuesday that it will raise prices by about 20 percent on 39 whiskey products. For instance, a single-malt Yamazaki that used to cost ¥7,000 ($59.61) will go for 8,500 starting in April. It's not just local whiskeys that will be more expensive: Imports from Scotland of Suntory's Macallan Fine Oak will cost an additional 25 percent, the company announced.
Is this further evidence of a whiskey shortage? All year, media in the U.S. have warned that a soaring thirst for American bourbon and whiskey worldwide is leading to tighter supplies. Sure enough, U.S. whiskey exports jumped 6.2 percent in the first nine months of the year, according to the Distilled Spirits Council of the U.S. However, Japanese consumers aren't contributing to that demand. Indeed, American bourbon exports to Japan dropped 22.5 percent (PDF) in the first three quarters of 2014 and exports of non-bourbon whiskeys fell 16 percent.
Before blaming whiskey drinkers worldwide, Japanese consumers should look instead to their newly reelected leader, Prime Minister Shinzo Abe. In a statement, Suntory cited the rising cost of raw materials. Left unsaid was the other big factor: the falling yen. The Japanese currency started the year at 105 to the dollar, having already weakened considerably since Abe's election in late 2012. Following the Bank of Japan's Halloween surprise of additional stimulus, the cost of buying one greenback is 117 yen, taking the currency's year-to-date decline to almost 13 percent. There might be a lot more room for the currency to weaken, with Citibank expecting the yen to fall to 130 to the dollar by the end of next year.
Higher whiskey prices might not be what Abe had in mind when he vowed to defeat deflation. Still, the Suntory move is a sign that his Abenomics program is at least making progress in persuading Japanese consumers that prices aren't inevitably headed lower. Last week, fast-food restaurant operator Yoshinoya responded to the higher cost of imports by announcing a big price increase. The company said it would raise the price of its beef bowl by 27 percent.
Even the way companies are raising prices helps Abe in his deflation fight. Rather than trying to hide the increases, companies such as Suntory are publicizing them. That is one way Japanese executives are trying to address deflationary expectations, says Bloomberg Intelligence analyst Thomas Jastrzab. "You run less risk of substitution if everyone does it in unison," he says. "By hearing this news across the board, consumers can react and say, 'I have to deal with this.'"
When it comes to the deflation fight, Abe "is doing a very good job," Takuji Okubo, chief economist at Japan Macro Advisors, told Bloomberg Television, "and he will continue to do well in the next twelve months." The problem is that prices are going up, but wages aren't keeping pace, so ordinary Japanese feel they're falling behind even more. And Abe's much-vaunted "third-arrow" structural reforms to make the Japanese economy more dynamic have been "a failure," Okubo added.
Before it's here, it's on the Bloomberg Terminal.
LEARN MORE